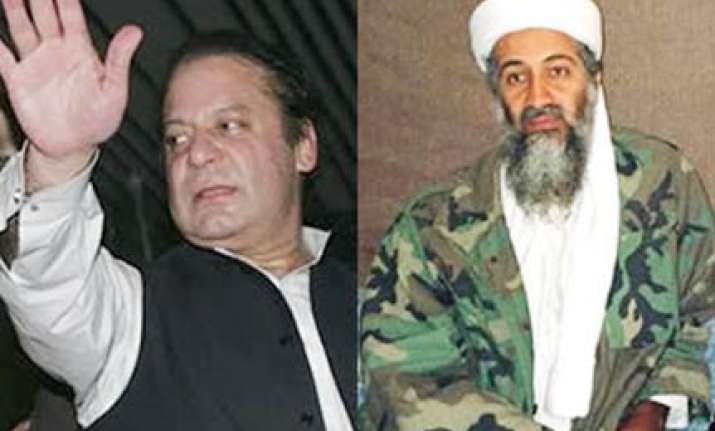 In a stunning disclosure that once again confirmed the nexus between Pakistan's Inter Services Intelligence and banned militant outfits, a former ISI official, Khalid Khwaja, has claimed that he arranged at least five meetings between former prime minister Nawaz Sharif and al-Qaida chief Osama bin Laden, reports Times of India.
In an interview with a private television channel, Khwaja said Sharif has met several Islamic movement leaders around the world, including Osama and asked him to provide fund for 'development projects'.  
Khwaja revealed that he had arranged three meetings between Sharif and Osama in Saudi Arabia. "Nawaz (Sharif) insisted that I arrange a direct meeting with Osama, which I did in Saudi Arabia. Nawaz was looking for a 500 million rupees grant from Osama. Although Osama provided a smaller sum... he secured for Nawaz a meeting with the Saudi royal family," Khwaja told the Daily Times.  
He also claimed that Osama bin Laden had provided him funds to hand over to the incumbent Punjab chief minister to overthrow Prime Minister Benazir Bhutto's government.
"I still remember that Osama provided me funds that I handed over to then Punjab chief minister Nawaz to topple Benazir Bhutto's government," Khwaja said.  
Khwaja claimed that he maintained a close relationship between Osama bin Laden, as after being 'forced' to retire he went to Afghanistan in 1987 and fought against the Soviet troops "alongside Osama".  
Khwaja had in February successfully petitioned the Lahore high court to bar the government from extraditing five Afghan militant leaders captured in the country, including Taliban No. 2 Mullah Baradar, to neighbouring Afghanistan.