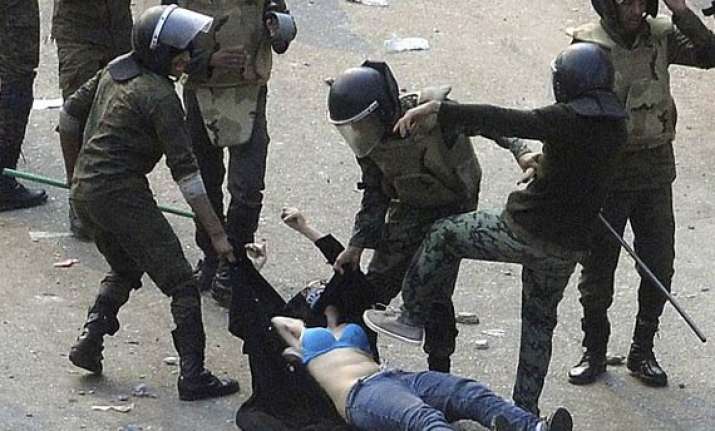 Cairo, Dec 18: A  10-strong mob of Egyptian male soldiers viciously beat up a woman protester in Cairo and as the woman lay helplessly on the ground her shirt is ripped from her body and a man kicks her with full force  on her exposed chest.

Moments earlier she had been struck countless times in the head and body with metal batons, not content with the brutal beating delivered by his fellow soldier, one man stamped on her head repeatedly.

She feebly tried to shield her head from the relentless blows with her hands.


But she was knocked unconscious in the shameful attack and left lying motionless as the military men mindlessly continued to beat her limp and half-naked body, Daily Mail reported.

Before she was set upon by the guards, three men appeared to carry her as they tried to flee the approaching military.

But they were too slow and the soldiers caught up with them, capturing the women and knocking one of the men to the ground.

The two other men were forced to abandoned their fellow protestors and continued running, looking helplessly back at the two they left behind being relentlessly attacked as they lay on the ground.

This is just one of the hundreds of shameful injustices seen in Cairo's Tahrir Square where Egypt's military took a dramatically heavy hand on Saturday to crush protests against its rule.

Aya Emad told AP that troops dragged her by her headscarf and hair into the Cabinet headquarters.

The 24-year-old said soldiers kicked her on the ground, an officer shocked her with an electrical prod and another slapped her on the face, leaving her nose broken and her arm in a sling.

Mona Seif, an activist who was briefly detained Friday, said she saw an officer repeatedly slapping a detained old woman in the face.

'It was a humiliating scene,' Seif told the private TV network Al-Nahar. 'I have never seen this in my life.'

In Bahrain a similar pictured was emerging with a video clip showing a female human rights activist being hit by a policewoman during clashes between police and anti-government protestors.


Police fired teargas to break up a demonstration by several hundred people on the outskirts of the capital, Manama where several women staged a sit-in protest trying to block a main road.

After nearly 48 hours of continuous fighting in Egypt's capital more than 300 were left injured and nine dead, many of them shot dead.

The most sustained crackdown yet is likely a sign that the generals who took power after the February ouster of Hosni Mubarak are confident that the Egyptian public is on its side after two rounds of widely acclaimed parliament elections, that Islamist parties winning the vote will stay out of the fight while pro-democracy protesters become more isolated.

Still, the generals risk turning more Egyptians against them, especially from outrage over the abuse of women.


'Do they think this is manly?' Toqa Nosseir, a 19-year old student, said of the attacks on women. 'Where is the dignity?'

'Are you not ashamed?' leading reform figure and Nobel Peace laureate Mohamed ElBaradei posted on Twitter in an address to the ruling military council.

Egypt's new, military-appointed interim prime minister defended the military, denying it shot protesters. He said gunshot deaths were caused by other attackers he didn't identify.

He accused the protesters of being 'anti-revolution.'

The main street between Tahrir Square, the epicenter of the anti-Mubarak protests, and the parliament and Cabinet buildings where the clashes began early the previous morning looked like a war zone on Saturday.


Military police on rooftops pelting protesters below with stones and firebombs and launched truncheon-swinging assaults to drive the crowds back.

Young activists put helmets or buckets on their heads or grabbed sheets of concrete and even satellite dishes as protection against the stones hailing down from the roofs.

The streets were strewn with chunks of concrete, stones ,broken glass, burned furniture and peddlers' carts as clashes continued to rage after nightfall Saturday.