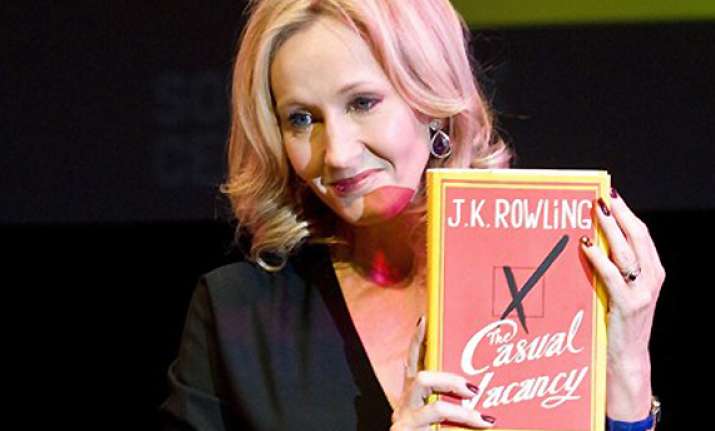 London, Sep 28: After months of hype and anticipation, J.K. Rowling's first novel for adults, "The Casual Vacancy" has appeared, swept into the arms of hopeful booksellers and an army of grown-up Harry Potter fans eager to find out what his creator has done next.
Rowling told a 1,000-strong audience at London's Southbank Centre on Thursday evening (27 Sept) that the idea for the book, a "Local election sabotaged by teenagers," came to her on a plane several years ago.
A gritty and darkly humorous tale of ugly realities in a pretty English village, "The Casual Vacancy" seems a long way from the Hogwarts School of Witchcraft and Wizardry, and reviewers gave it a mixed reception.
A story of ambition, envy and rivalry, the novel recounts the civic warfare sparked in the fictional Pagford when the unexpected death of a town official leaves a vacancy on the governing body.
Characters set on a collision course range from the affluent lawyer Miles Mollison to the Weedons, a ramshackle clan living in The Fields, the run-down housing project on the edge of town.
Writing for a more adult readership, she said, had been "freeing," though "in other senses it's a challenging book," told from multiple viewpoints.
The book's sex and swearing have drawn the most comment so far, some audience members were startled to hear the F-word pass Rowling's lips during Thursday's reading. But the presence of death is perhaps the book's most adult element, and one that loomed over Harry Potter's world, too.
Rowling did warn fans during the question and answer session, "it is a humorous book, some of the humor maybe quite dark, in places."
Five years after the last Potter book appeared, Rowling remains the world's most successful living writer. The lines were shorter and the wizard costumes missing, but "The Casual Vacancy" appeared to some of the same fanfare that greeted each Potter tome, with stores wheeling out crates of the books precisely at 8 a.m. as part of a finely honed marketing strategy.
And Rowling retains the intense loyalty of Potter fans. In contrast to the tight security that preceded the book's release, the atmosphere at Thursday's reading was warm; it felt like a reunion.
"The Casual Vacancy" is already at No. 1 on Amazon's U.S. Chart, and bookmaker William Hill put 2-1 odds on it out-selling "Harry Potter and the Deathly Hallows," which shifted 2.6 million copies in Britain on its first day.