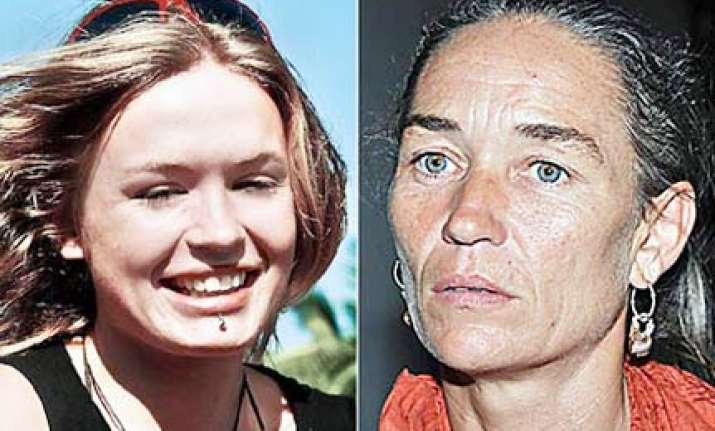 The mother of  teenager Scarlett Keeling murdered in Goa  is facing jail after admitting benefit fraud. Fiona MacKeown's court appearance on Friday meant she was unable to get to India for the start of the trial of two men accused of killing the 15-year-old, reports The Mail, London.
Scarlett was found dead on a beach in Goa in February 2008. She had been drugged, raped and killed while on holiday.
Here is the picture of accused Placido Carvalho, with his wife and child, outside a court in Goa at the start of the Scarlett Keeling murder trial.
Samson D'Souza, also standing trial for Scarlett's murder, hides his face with a motorbike helmet at the start of the trial in Goa on Friday.
But MacKeown's case has been adjourned to allow her to give evidence in India.  Samson D'Souza, 30, and Placido Carvalho, 42, are on trial for manslaughter. MacKeown, 44, yesterday labelled the case a 'show trial'.  'I don't think they'll ever convict the two of them,' she said.
Asked if the right men were in the dock, she replied: 'The two men were doing something. They were plying Scarlett with drugs and they probably wanted to have sex with her. There's a possibility one of them murdered her.'
MacKeown left her daughter in Goa while she went on a trip to the neighbouring state of Karnataka.  Local police said the teenager had drowned accidentally, but under pressure from her mother a second post mortem examination was carried out which showed she had been attacked.
MacKeown said: 'The only justice I will get is if the corrupt ministers and police are exposed through these proceedings.'
MacKeown, from West Lodge, near Meddon, Devon, on Friday pleaded guilty at Exeter Crown Court to falsely claiming £19,000 in income support between February 2005 and March 2008.  Judge Graham Cottle told her she faced a possible custodial sentence.