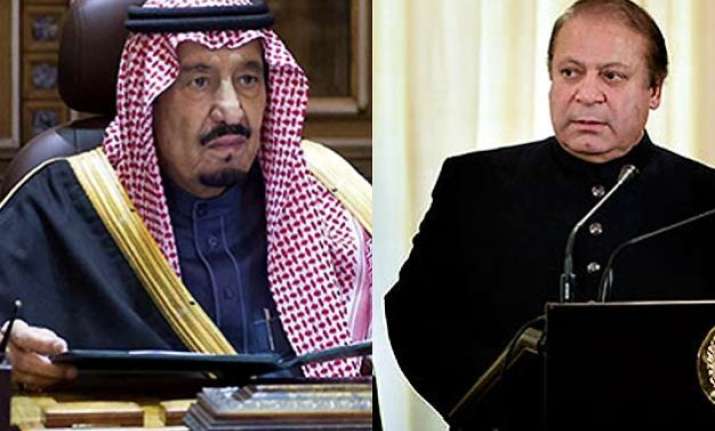 Islamabad: Oil-rich Saudi Arabia has sought military assistance from Pakistan to ward-off dreaded terror group Islamic State's threats to its borders and offered an economic package in return, according to a media report here. 
The issue was discussed during Prime Minister Nawaz Sharif's visit to Saudi Arabia last week during which he was given an unprecedented welcome from the country's new King Salman, the Express Tribune reported.  The Pakistan government is in a fix over whether to accept Saudi Arabia's request for support, the report said.  King Salman is believed to be looking up to his closest allies, including Turkey, Egypt and Pakistan, to boost security at the Saudi border in a bid to ward off the Islamic State (IS) threat.
Premier Sharif and Salman King Salman discussed increased security cooperation between Pakistan and Saudi Arabia, a senior official was quoted as saying.  It is believed that Riyadh wants Islamabad to send troops to help it in the fight against IS, the report said.  In return, the new Saudi monarch has offered Pakistan an economic package, which includes supply of oil on deferred payment, said another official familiar with the discussion.  Sharif has not given Saudi Arabia any firm assurance over the request, the report said.
The government is cautious about getting embroiled in any new controversy which could have far-reaching implications for Pakistan, it said.
Saudi Arabia, other Gulf countries as well as the US had formed a coalition last September against IS. But Pakistan attempted to distance itself from any such coalition fearing a negative fallout at home.
Foreign Secretary Aizaz Ahmad Chaudhary recently informed the Senate panel on foreign affairs that Pakistan would not become part of any international coalition against IS.  "It (Pakistan) should only support multilateral action against IS under the UN Security Council resolution under Chapter VII of the UN Charter," he had said.  The cautious approach is attributed to the fact that joining the fight against IS would create more trouble for Pakistan.
Another factor is that because of Iran, the current government, despite having close ties with the Saudi Royal family, does not want to be seen as too much aligned with Saudi Arabia, the report said.