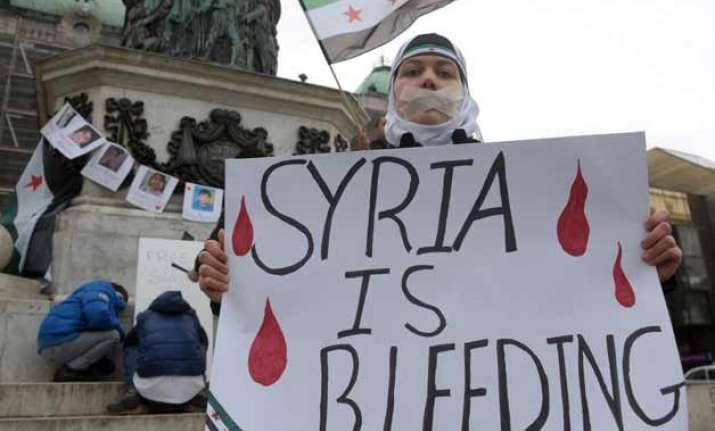 United Nations: Over the four years that researcher Xi Li has watched Syria's civil war unfold through nighttime satellite imagery, he has seen the pinpricks of light that dotted the north and east fade and the Mediterranean coast darken until 83 percent of the country's lights have gone out.
From a vantage point that few everyday people have seen, Li has produced a chilling measurement of a crisis that shows no sign of ending.
As the civil war moves into its fifth year, a global coalition of dozens of human rights and humanitarian groups released Li's analysis late Wednesday and demanded a comprehensive effort to get aid to millions of Syrians.
"Satellite data never tell lies," the Chinese-born Li, a visiting scholar at the University of Maryland's Department of Geographic Sciences, said in a phone call Wednesday. "The night images are very unbelievable. The Syrian people need help."
He has measured the levels of nighttime light across Syria since the conflict began in March 2011. His findings were published last year in the International Journal of Remote Sensing and came to the attention of the (hash) with Syria coalition after a friend who does similar work at Columbia University put them in touch.
Because single images can be affected by cloud cover or other factors, Li came up with a monthly average image of nighttime light so it could be compared over the course of Syria's conflict.
LI said 97 percent of the lights in Aleppo, Syria's once-largest city, have gone out since the conflict began.
In the images released late Wednesday, the bright light of Aleppo shown in March 2011 is almost entirely gone by February of this year. Even the government-controlled capital, Damascus, is 35 percent dimmer.
Raqqa, the new de facto capital of the Islamic State group, is also almost in complete darkness with 96 percent of its lights out, Li said.
He blamed the displacement of people as the main factor behind the darkening, as 3.8 million people have fled the country. He also blamed power shortages and infrastructure damage.
Li has observed other conflicts unfold by night. During the Rwandan genocide two decades ago, where more than 800,000 people were slaughtered, the country lost about 80 percent of its nighttime light, he said. In Syria, the U.N. says, more than 220,000 people have been killed.
"The only difference is the night light during Rwanda genocide reached that number within several months," Li wrote in an email this week. Syria's effects have been drawn out over four years, "but it also reflects that the pain the Syrian people suffer is much longer."
In a conference call Wednesday that also included the head of the International Rescue Committee and former U.S. Secretary of State Madeline Albright, Li said the nighttime satellite images offer a rare chance to see the whole picture of the crisis at once.
He says he is now looking at the current conflict in Iraq through similar analysis of nighttime light.
Wednesday's call also featured a Syrian dentist who until last summer was based in a besieged Damascus suburb that has been without electricity for almost three years. He spoke under a pseudonym for his safety.
"We have been living without electricity for 900 days," he said. Imagine going a day and missing your daily cup of coffee, he said. And now imagine trying to keep schools and hospitals running.
In a separate report late Wednesday, 21 humanitarian organizations gave the U.N. Security Council a failing grade, saying it has not implemented the three resolutions it passed last year aimed at getting aid to Syrians and protecting civilians. The council has been blocked from taking strong action on the crisis by vetoes from permanent member Russia, Syria's ally.