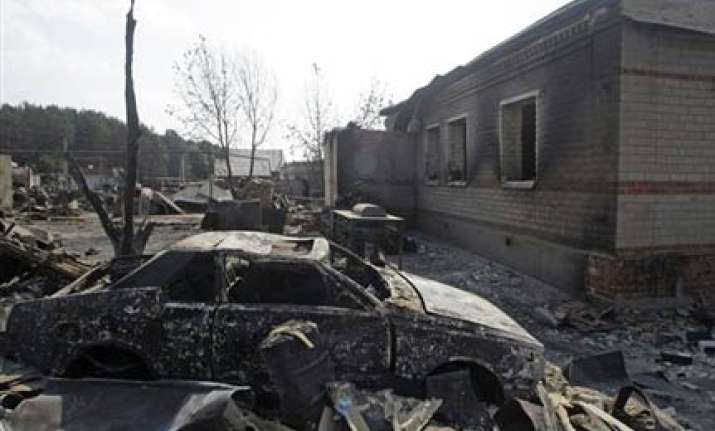 Moscow:  President Dmitry Medvedev on Monday declared a state of emergency in seven Russian regions worst hit by the raging wildfires as the toll has mounted to 40, even as firefighters battled hard to douse the flames.
The emergency has been declared in the republics of Mariy El and Mordovia as well as in Vladimir, Voronezh, Moscow, Nizhny Novgorod and Ryazan regions, a Kremlin release said.
 Under the decree the regional authorities have been ordered to restrict the movement of people and economic activities in the affected areas. 
Presidential decree has formalised the full scale induction of Army and Interior Ministry troops in combating the forest fires.  Besides the local authorities have been recommended to involve volunteers and social organisations in fire-fighting and relief work. 
The death toll in the wildfires that have swept Russia has now risen to 40, the Interfax reported. 
Russian Prime Minister Vladimir Putin, who compared the scale and challenges of wildfires with the invasions Russia, has been facing from time-immemorial today warned the heads of affected regions will be held personally responsible.
"The entire responsibility for the performance of this task lies on the heads of constituent territories of the Russian Federation," Putin said in his televised comments.
He also demanded that officials tighten fire safety regulations.
"The irresponsible behaviour of those who ignore the bans and violate elementary safety rules comes at too high a price for ordinary citizens," Putin said. 
EMERCOM Crisis Management Centre Gen. Vladimir Stepanov said a total of 265 residential areas had been "saved from advancing fires" within the last 24 hours.
 He said there was no threat to Federal Nuclear Centre at Sarov in Nizhny Novgorod region and Novo- Voronezhskaya NPP in Voronezh region, where emergency has been declared.
RIA Novosti reported that wildfires raging in the central part of European Russia have also left over 2,000 people homeless and caused damage estimated at over 4.6 billion roubles (USD 150 million).
The wildfires have affected 14 Russian regions, with the most severe destruction in the Nizhny Novgorod, Voronezh and Ryazan regions.
As dense smoke and smog covered the Russian capital the army units completed the installation of a pipeline in the Yegorievsk district near Moscow to supply water to burning peat bogs. PTI