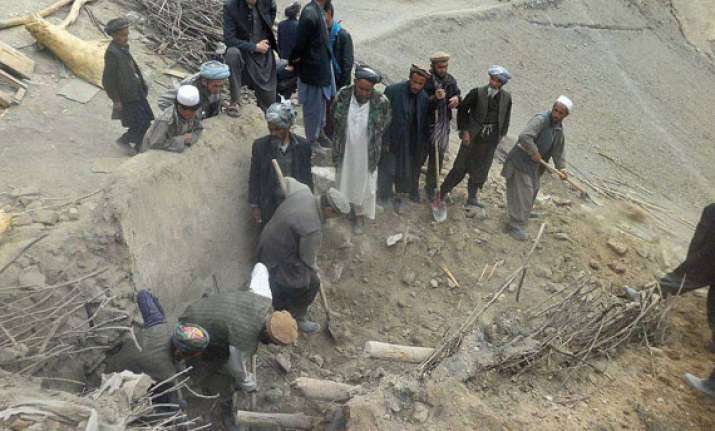 Abi Barik, Afghanistan: Afghan rescuers and volunteers armed with shovels and little more than their bare hands dug through the mud Saturday after a massive landslide swept through a village the day before, turning it into an earthen tomb holding hundreds of bodies, officials said.
The government and aid groups rushed to bring food, water and shelter to the survivors as the government tried to ascertain just how many people were killed in the latest natural disaster to hit a country already reeling from nearly three decades of war.
Figures on the number of people killed and missing in the disaster Friday varied from 255 to 2,700. Fears of a new landslide complicated rescue efforts, as homes and residents sat buried under meters (yards) of mud.
"That will be their cemetery," said Mohammad Karim Khalili, one of the country's two vice presidents, who visited the scene Saturday. "It is not possible to bring out any bodies."
Though figures on the death toll varied, residents knew the toll the tragedy had taken on their own families.
From atop a muddy hill, Begam Nesar pointed to the torrent of earth below that had wiped out much of her village. "Thirteen of my family members are under the mud," she said, including her mother, father, brothers, sisters and children. She said she had been visiting relatives at a nearby village when the disaster struck.
The United Nations said Friday at least 350 people died, and the provincial governor said as many as 2,000 people were feared missing. On Saturday, the International Organization of Migration said information they gathered indicated 2,700 people were dead or missing.
Part of the confusion lay in the fact that no one knew how many people were home when the landslide struck.
At least 255 people were confirmed dead, Khalili said. Most of those were people who had rushed to the scene to help after a previous, smaller landslide. When a bigger landslide hit, those people along with roughly 300 homes were wiped out. But since no one knows how many people were in those homes, counting the dead is difficult, Khalili said.
Mohammad Aslam Seyas, deputy director of the Natural Disaster Management Authority, said fears of new landslides had slowed the operation.
The ground on a hill overlooking the village was soaked from recent heavy rainfalls that officials believe triggered the slide. About 1 kilometer (more than half a mile) away, government and aid groups set up tents for those displaced.