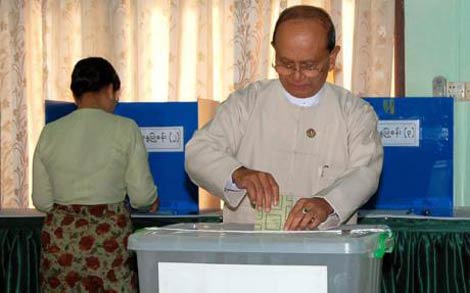 Myanmar's ruling junta-backed party claimed an overwhelming victory on Tuesday in an election condemned as a sham by the West but praised by China, as fresh fighting erupted between rebels and government forces, reports Daily Telegraph, London.
Pro-democracy parties urged the authorities to act against cheating during the poll as the junta-backed Union Solidarity and Development Party (USDP) said they were pleased with the vote.
"We have won about 80 per cent of the seats. We are glad," said a senior USDP member.
The vote appeared to have gone largely according to the junta's plans but clashes between government troops and ethnic minority soldiers on Monday triggered an exodus of about 20,000 people to neighbouring Thailand.
At least three civilians were killed when heavy weapons fire hit the town of Myawaddy in Karen State, an official in Burma said.
Local residents said on Tuesday that Democratic Karen Buddhist Army (DKBA) rebels had retreated into surrounding forests around the Three Pagodas Pass, pursued by government forces, and distant sounds of fighting were heard.
"We think the government troops are following them to try and completely destroy them," one local man said.
There was no official announcement from the junta or election officials on the vote results, but the USDP had been widely expected to sweep the poll because in many areas no pro-democracy candidates were even standing.
The army-backed party – formed by Prime Minister Thein Sein and other former military top brass who shed their uniforms for the vote – said turnout was more than 70 per cent, despite muted activity seen at many polling stations.
Win Min, an exiled Burma academic, said the USDP was likely to sweep more than 82 per cent of the seats to beat the crushing victory scored by the opposition in 1990 – an outcome never recognised by the ruling generals.
Opposition parties have complained about widespread reports of irregularities, particularly with advance ballots.
"Officials need to take action against vote cheating," Than Nyein, chairman of the National Democratic Force (NDF), told AFP.
He said the party, created by former members of Nobel Peace Prize winner Aung San Suu Kyi's National League for Democracy, so far appeared to have won only about 10 per cent of the more than 160 seats it contested.
"Our country has lacked dignity in the world so we wanted to restore our pride with a fair election. I'm very sorry because these acts could further harm the dignity of our country," he said.
Thu Wai, chairman of the Democratic Party, said that when people were allowed to vote freely they had supported his party. "But they have won with advance votes. We cannot do anything," he said.
With 25 per cent of the seats in parliament reserved for military appointees whatever the outcome, the two main pro-junta parties needed to win just another 26 per cent from the elected seats to secure a majority.
In many constituencies the poll was a two-way battle between the USDP and the National Unity Party (NUP), which is the successor to late dictator Ne Win's party and also closely aligned with the military.
China praised the elections that have been widely criticised by the United States and other countries.
"This is a critical step for Burma in implementing the seven-step road map in the transition to an elected government, and thus is welcome," foreign ministry spokesman Hong Lei told reporters.
He said the election had been carried out in a "steady and smooth manner."
US President Barack Obama said: "It is unacceptable to steal an election, as the regime in Burma has done again for all the world to see," he said in a speech to the Indian parliament on Monday.
UN Secretary General Ban Ki-moon called the vote "insufficiently inclusive, participatory and transparent", his spokesman said.
Burma's southeast Asian neighbours, however, welcomed the poll as a "significant step forward".
"ASEAN encourages Burma to continue to accelerate the process of national reconciliation and democratisation, for stability and development in the country," chair Vietnam said in a statement.
After the election, attention was turning to whether the regime will release Miss Suu Kyi on Saturday, when her current term of house arrest is due to end.
The democracy icon has been detained for most of the past 20 years and her party boycotted the poll, saying the rules were unfair.