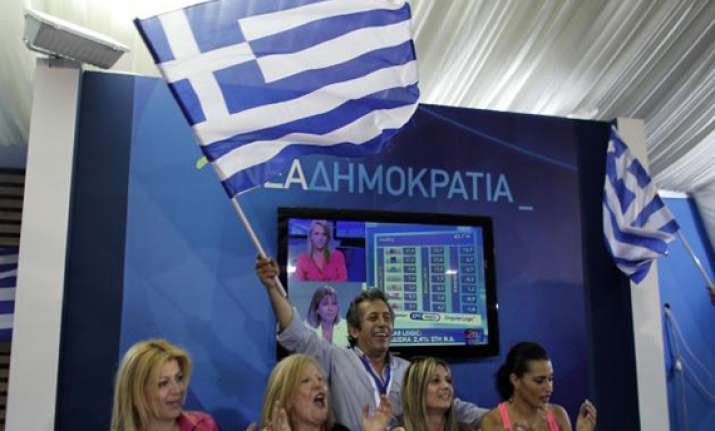 Athens, June 18: The New Democracy party came in first in Greece's election on Sunday and immediately proposed forming a pro-euro coalition government, a development that eased, at least briefly, deep fears that the vote would unleash an economic tsunami.
Sunday's vote was seen as crucial for Europe and the world, since it could determine whether Greece was forced to leave the joint euro currency, a move that could have potentially catastrophic consequences for other ailing European nations and the global economy.
As central banks stood ready to intervene in case of financial turmoil, Greece held its second national election in six weeks after an inconclusive ballot on May 6.
With 37.4 per cent of the vote counted, official results showed the conservative New Democracy with 30.5 per cent of the vote, ahead of the radical anti-bailout Syriza party's 26 per cent and the pro-bailout Socialist PASOK with 12.9 per cent.
Although official projections late Sunday showed that no party will win enough seats in the 300-member parliament to form a government on its own, Greece's two traditional parties New Democracy and PASOK will have enough seats to form a coalition together.
"The Greek people today voted for Greece to remain on its European path and in the eurozone," New Democracy leader Antonis Samaras said, adding that voters chose "policies that will bring jobs, growth, justice and security. "
Greece has been dependent on rescue loans since May 2010, after sky-high borrowing rates left it locked out of the international markets following years of profligate spending and falsifying financial data.
The spending cuts made in return have left the country mired in a fifth year of recession, with unemployment spiralling to above 22 per cent and tens of thousands of businesses shutting down.
The party that comes first in Sunday's vote gets a bonus of 50 seats in the 300-member Parliament and gets the first try at forming a new government with a majority in Parliament. If they fail, the next highest party gets to try.
Far right party returns to parliament
An extreme right party that campaigned to rid Greece of illegal immigrants has largely held its bloc of seats in parliamentary elections, retaining support after a party official slapped a female politician and threw a glass of water on another on live TV during the campaign.
Official projections show the Golden Dawn party returning to the 300-member parliament with 18 seats, just three fewer than it won in an inconclusive election on May 6.
In that vote, no party won enough votes to form a government amid a deep financial crisis that threatens Greece's place in the Eurozone and could hurt the global economy.
Rise of the radical left
Virtually unknown outside of Greece four months ago, Alexis Tsipras and his radical left party shot to prominence in the May 6 vote, where he came a surprise second and quadrupled his support since the 2009 election.
Journalists and television news crews from across the world jostled for space to see Mr. Tsipras vote on Sunday in Athens.
"We have beaten fear. Today we open a road to hope," Mr. Tspiras said, adding that he was confident of victory. "Today we open a road to a better tomorrow, with our people united, dignified and proud.
In a Greece of social justice and prosperity, an equal member of a Europe that is changing."
The young left-wing leader has accused his rivals of attempting to terrorise the population by casting him as the man who will ruin the country.
He insists he will keep Greece within the euro something that opinion polls have shown about 80 per cent of Greeks want but European leaders have made it clear there is no room for Greece to reject the bailout and stay in the eurozone.
Mr. Samaras, meanwhile, has cast Sunday's choice as one between the euro and returning to the drachma. He has vowed to renegotiate some of the bailout's harsher terms but insists the top priority is for the country to remain in Europe's joint currency.
"Today the Greek people speak. Tomorrow a new era for Greece begins," Mr. Samaras said after voting in southern Greece.