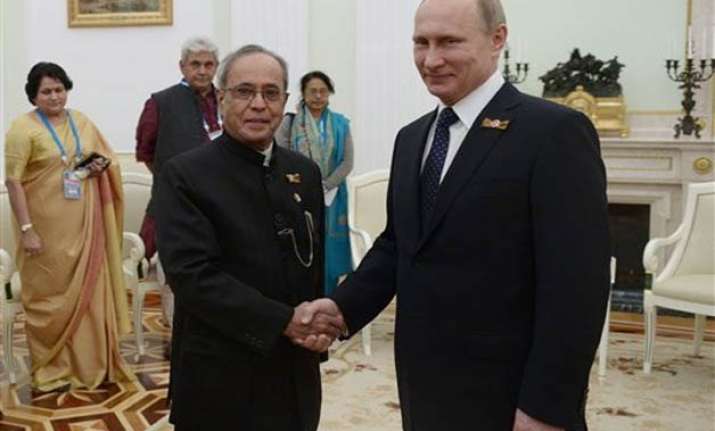 Moscow: President Pranab Mukherjee today inaugurated a seven-month-long festival of Indian culture "Namaste Russia", and said it would be enjoyed and appreciated across Russia. 
"It is cultural bonds that build solid bridges friendship and understanding between peoples and countries," Mukherjee said. 
"We celebrate these affinities and strengthen them through regular cultural festivals in our countries," he said after inaugurating the festival. 
Earlier, Director General of Indian Council for Cultural Relations Satish C Mehta said that during the festival, Indian groups will perform dance, music in various cities in Russia. 
Exhibition of painting and sculptures by Indian artists will also be hosted in Russia as part of the festival. 
The festival will be held between May and November 2015 in Russian cities like Moscow, St Petersburg, Kaliningrad, Kislovodsk, Rostov-on-Don, Ufa and others. 
The festival is being hosted under the patronage of the Ministry of Culture of the Russian Federation and Indian Council for Cultural Relations (ICCR). 
The organisers of the festival are the Russian State Concert Company "SODRUZHESTVO" and the Jawaharlal Nehru Cultural Centre at the Embassy of India in Moscow. 
The festival of Indian culture in Russia is an important international event which symbolises cultural dialogue between the two countries and already has a history of its own. 
Bilateral relations in the field of culture of Russia and India are based on various programmes on cultural cooperation and interaction, including festivals and days of culture of Russia in India and also reciprocal programmes of Indian culture in Russian cities. 
In 2014, during the festival of Russian culture in India, Russia was brightly represented by outstanding companies and artists such as dance theatre "Gzhel", State Borodin Quartet, S Obraztsov, Central Puppet Theatre and the soloists of Novosibirsk opera and ballet theatre.