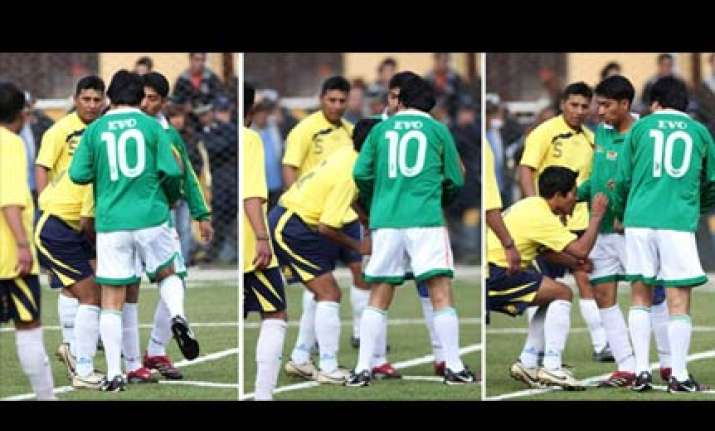 The President of Bolivia Evo Morales kneed an opponent in the groin during a "friendly" football match between political rivals in capital La Paz on Sunday.
 The furious head of state  was caught on camera kneeing the player, who collapsed in agony. The 50-year-old leader's violent outburst came after he was kicked in the shin during the game.
Incredibly the president was not booked - while his victim, defender Daniel Gustavo Cartagena - was sent off and threatened with arrest.
A video of the incident has become a massive YouTube hit in South America.
Cartagena, a civil servant in the city hall, said afterwards: "I don't know why I was sent off. I never had a bad intention, I didn't mean to hurt the president."
Morales, wearing a green number 10 jersey, was captaining a side against a team headed up by the mayor of La Paz and political rival Luis Revilla Herrero. Mayor Revilla had to step in to prevent plain clothes police officers from arresting Mr Cartagena after the match.
The Bolivian government later said in a statement the injured president would be unable to play football for up to ten days and had been recommended four days rest by doctors.
Spokesman Ivan Canelas said younger players should always respect their elders during a football match, no matter what jobs they hold.
Morales, a former llama herder, is a massive football fan who claims never to have lost a match. He said: "I passed the ball and suddenly received a strong blow to my leg, it was not the first time it had happened."
 The 70-minute match, which was organised to celebrate the opening of a new plastic pitch in the high-altitude capital, ended 4-4 and featured four red cards.
Watch Video One

Two
Three