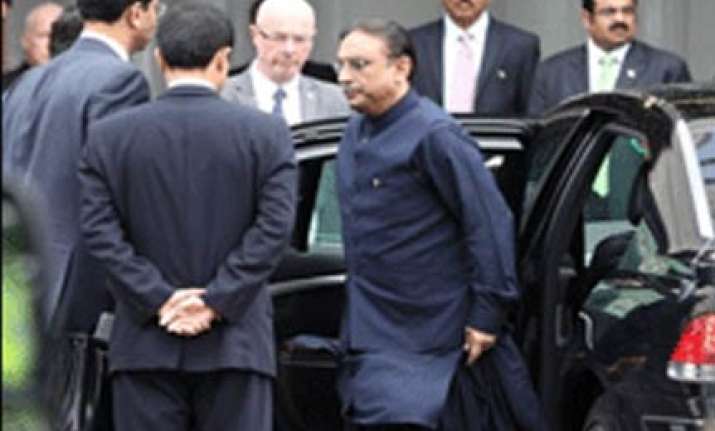 Infuriated activists of PPP  resorted to violence, arson and rampage in Karachi and other parts of country to proteswt the airing of news, which showed an old man hurling a shoe at President Asif Ali Zardari during his party address in Birmingham, Geo News reported Sunday morning.
PPP activists attacked newspaper vendors and seized copies of several newspapers in Karachi on early Sunday morning; meanwhile most television channels have been blocked in other parts of country, Geo News reported.
Cable operators' offices are being attacked with baton and armed activists of PPP while many cable operators have been tortured in Karachi, witnesses and sources told Geo News.
It may be mentioned that according to a UK news agency, while the President Asif Zardari was amid his party address at 10pm on August 7, all of a sudden a man threw two shoes towards President Asif Ali Zardari when the latter was delivering a speech at Pakistan People's Party's convention here on Saturday, an eyewitness said.
However, the shoes failed to reach the stage, sources said.
President Zardari was addressing a gathering of PPP workers at a convention here when a man – apparently a PPP worker – stood up and threw something in direction of the President as he (the man) criticized the latter for the UK trip, the sources said.
An eyewitness who was present at the convention said 'the man threw two shoes one after another towards the President when he was giving speech.' Security personnel present there sprung to action and took the man into custody and took him outside, the eyewitness added.
This led the President to stop his address and immediately leave the place in a security cordon in his car waiting for him outside.
However, Presidential spokesman Farhatullah Babar rubbished the above report, saying there is no substance in it as he was himself present at the convention and no such incident took place during the President's speech.
"I was sitting in the front row and I can confidently say that nobody threw anything," Farhatullah Babar said while talking to Geo News.
On the other hand, Information Minister Qamar Zaman Kaira confirming the incident said that 'highlighting a wrong act of a person would not be a right thing to do' and added that the incident will be investigated.
President Zardari is presently in UK on a trip which was widely criticized due to his leaving the country at a time when people in Pakistan are facing unprecedented floods that has killed over 1000 people and displaced millions.