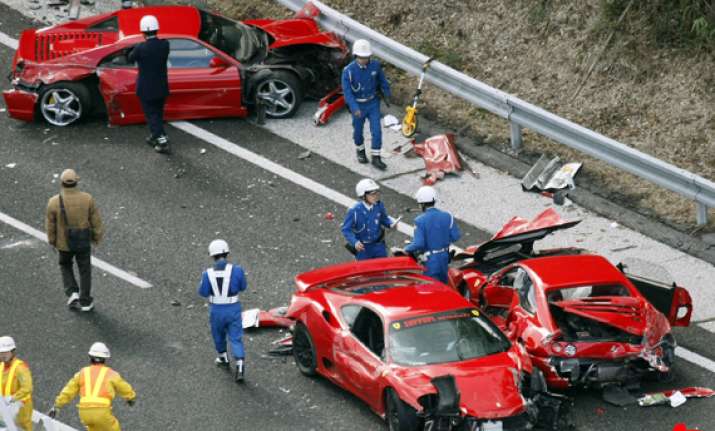 Tokyo, Dec 6: Thirteen high-end sports car owners - and one driver of a Toyota Prius - were probably close to tears on Sunday  night after a £2.5million motorway pile-up.

A single miscalculation from a Ferrari driver leading a convoy of sports car connoisseurs left a trail of twisted Italian and German metal trailing across this motorway in Japan, reports The Daily Mail.


Ten people were rushed to hospital after the smash on the Chugoku Expressway in Shimonoseki, Yamaguchi Prefecture, Sunday afternoon, but none of their injuries were said to be serious.

But the damage to their wallets may be far more grievous. Among the wrecked vehicles were eight Ferraris, three Mercedes, a Lamborghini, and a Skyline, as well as a Prius hybrid that was simply in the wrong place at the wrong time.


Police said the accident occurred on an uphill curve when the 60-year-old driver of the Ferrari leading the pack lost control while trying to overtake another vehicle.

The trailing cars then proceeded to crash one by one, with the ensuing carnage closing down the express way for six hours while emergency services cleared up the mess.


The cars involved in the epic smash included at least two Ferrari F430s, two Ferrari 360 Modenas, two Ferrari F355s and a Lamborghini Diablo.

There was also a Nissan Skyline GT-R - the only current Japanese supercar - and two Mercedes Benz, while the cheapest involved in the crash was the Toyota Prius hybrid.


Sports Nippon estimates the value of the vehicles to be 300million yen (£2.5million).