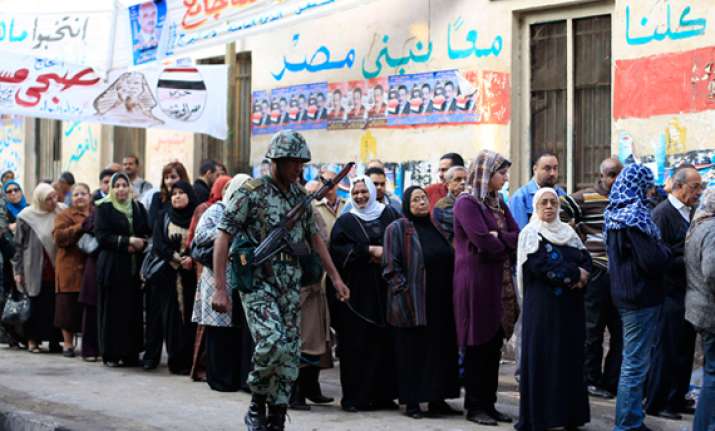 Cairo, Nov 28: Nine months after the end of Hosni Mubarak's autocratic rule, Egyptians today voted in the first post-revolution Parliamentary polls clouded by violence and a political crisis, hoping to usher in democracy in the Arab world's most populous nation.

The three-phase election, which follows deadly clashes between pro-democracy protesters and riot police, is the first step towards transfer of power to the civilian rule, promised by the ruling military council, headed by Field Marshal Hussein Tantawi, that replaced Mubarak following a popular uprising in February.

Amid tight security, thousands of Egyptians flocked to polling stations in nine governorates as early as six am local time to cast their ballots to elect the 508-member People's Assembly or lower house of Parliament.

The polling started at 8 am.

Over 50 political parties, along with thousands of independent candidates, are in the fray. Observers expect the Muslim Brotherhood, a moderate Islamist movement, to emerge as the largest party, but without an overall majority. 

The first stage of elections are being held in the governorates of Cairo, Al-Fayyum, Port Said, Damietta, Alexandria, Kafr al-Sheikh, Assiut, Luxor and the Red Sea today and tomorrow, with run-offs slated for December 5. 

People at the polling stations were quite enthusiastic about the whole exercise.

"I am a 70-year-old and never voted before,"

Abd-al-Khalik, a retired teacher, told PTI. "I thought I would die before I do," he chuckled.

Another voter, a middle-aged man, said this was the first time that he felt there was any positive outcome of the revolution that toppled Mubarak after a 30-year rule. Many people in a long queue behind him nodded affirmatively. 

Some of the voters called the youths, who are currently staging a sit-in in Tahrir Square demanding that the Supreme Council for Armed Forces step down immediately, as "unrealistic".

There was trouble outside a few polling booths, mainly because some people attempted to campaign for a certain candidate.
The polling stations are segregated according to gender.

At the polling stations for women, many of them were speaking about the benefits of voting for Islamists.
 
The main complaint by many was the slow procedures which were tiresome for old-age voters. 

Rains, which lashed the capital city and other towns overnight, also made it difficult for many voters to reach their stations, particularly in Alexandria.
 
Social networking sites, including Facebook, were extremely active during today's elections, with people sharing their experiences with each other.

Initially, 27 provinces will go to the polls in three separate stages in a long procedure until January to elect the People's Assembly.

The second stage will be held on December 14 in Giza, Beni Sueif, Menufia, Sharqiya, Beheira, Suez, Ismailiya, Sohag and Aswan, with a run-off scheduled for December 21. 

The third and final round will take place on January 3 in Minya, Qaliubiya, Gharbia, Daqahliya, North Sinai, South Sinai, New Valley, Matruh and Qena. The last run-off will be held on January 10.

The final results are expected on January 13.  Voters have been asked to elect 498 members of the lower house of Parliament, while 10 others will be appointed by interim military leader Tantawi.

The voters would again cast their ballots on January 29 to elect the Shura Council, the upper house of Parliament.  Just ahead of polls, thousands of protesters occupied Cairo's iconic Tahrir Square, the hub of the uprising that unseated Mubarak, demanding that the military council that replaced him hand over power to a civilian government.
 
Tantawi warned them that no one will be allowed to pressurise the army.

The protesters rejected the appointment of 78-year-old caretaker Prime Minister Kamal al-Ganzuri by the Supreme Council of the Armed Forces.

They vowed to stay in the Square until the ruling council turns over authority to a National Salvation Government led by Nobel peace laureate Mohamed ElBaradei.

Meanwhile, the visiting head of the Democratic Participation Committee at the US Congress, David Driaer, said a delegation of American lawmakers will meet Egypt's ruling Supreme Council of Armed Forces to discuss the process of elections in addition to a number of local issues. 

Driaer, who visited one of the voting stations, described the elections as an important step towards democracy in Egypt.
 
He expected the elections to run smoothly and hoped Egyptian people will fulfil their aspirations of a strong economy and creation of two million new jobs. 

Driaer also said that he was not sorry to see Mubarak go as it was the decision of the people.