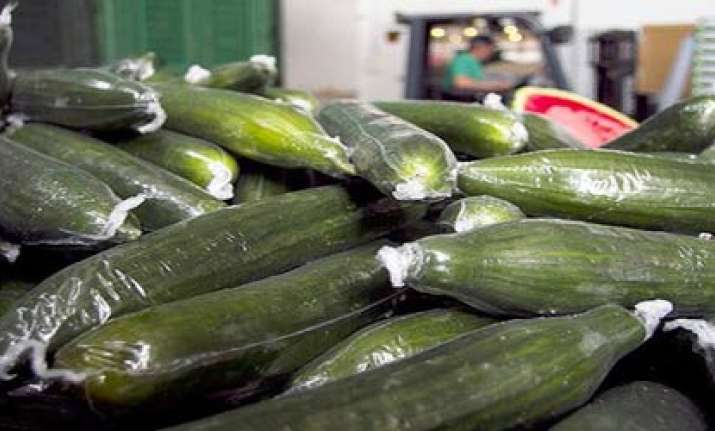 Berlin, May 30: Nine people have so far died and almost 300 others fell sick after eating imported cucumbers from Spain. Government officials say in Germany a bacterial outbreak is behind the deaths. 

Shoppers at a local market expressed their worries on Sunday as government officials say that two more people have died of a bacterial outbreak allegedly caused by contaminated Spanish cucumbers.

A customer said, " I won't eat raw vegetables any more, but I still eat produce which has been steamed or boiled. Also, I take a second look now when shopping for vegetables."

Germany news agency DAPD reported that the dead and the sick contracted hemolytic uremic syndrome, or HUS.HUS is a rare complication arising from an infection most commonly associated with E. coli, a bacterium found in undercooked beef or contaminated food.


Enterohaemorrhagic E. coli (EHEC)

The Hamburg Institute for Hygiene and the Environment (HU) found that four cucumbers in a local market were contaminated by Enterohaemorrhagic E. coli (EHEC), and three of them were imported from two separate Spanish suppliers, Hamburg state health authorities said.

German officials say they found cucumbers infected from Spain with the bacterium and they are currently probing whether they were contaminated with E, coli, when they were shipped from southern Spain, or if they went bad during shipment or while being handled in Germany.


The European Union said on Sunday that two greenhouses in Spain that were identified as the source of the contaminated cucumbers had ceased activities.And the water and soil there are being analyzed to see whether they were the problem or the contamination occurred elsewhere.