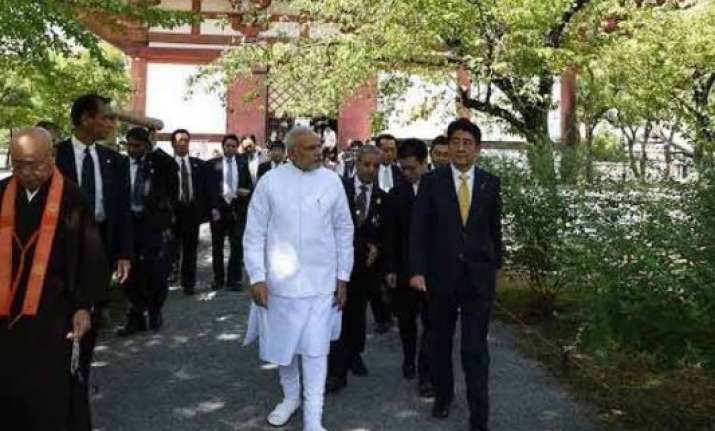 Kyoto: Clad fully in white down to his slippers, Prime Minister Narendra Modi on Sunday began second day of his tour to Japan with a visit to the ancient Buddhist Toji Temple in Kyoto.
He was accompanied by his Japanese counterpart Shinzo Abe when he went around the famous temple.
He was at the temple complex for about half an hour during which he enquired about the history of the eighth- century Buddhist pagoda.
Sources in the Ministry of External Affairs said that the Japanese Prime Minister thanked Modi saying the visit will enhance 'mutual trust' between the two countries.
"This is my second visit to the Toji temple. Before this, I had visited here when I was in school. I got an opportunity to visit Toji temple for second time with you," Abe said.
Chief Monk Mori took Modi around the complex having wooden temple including the five-storied main pagoda.
It stands 57 meters tall, making it the tallest pagoda in Japan, and has become a symbol of both the temple and Kyoto as it can be seen from many places across the city.
Monk Hasi, who accompanied Modi, said: "We are happy that the Prime Minister visited us. It is a matter of pride for our temple. He has a big heart."
When Modi arrived at the temple, a number of Indians carrying the Tricolour were there to see him. He went and shook hands with the excited crowd. Toji Temple is one of Kyoto's many UNESCO world heritage sites.
Modi then went to the spectacularly pretty Kinkaku-ji temple. He met the 83-year-old Head Priest Venerabale Yasu Nagamori of Kinkau-ji Temple and discussed the possibility of the Buddhist shrine working with Sarnath.
"Prayer for peace! Prime Minister Narendra Modi meditating in the tranquility of the Kinkaku-ji (Golden Pavilion) Temple in Kyoto," official spokesperson of the Ministry of External Affairs, Syed Akbaruddin, said in a twitter post.
During his visit to the Kyoto University, Modi met Nobel Prize winner for Medicine (2012) S Yamanaka and discussed inventing treatment to the Sickle Cell Anaemia.