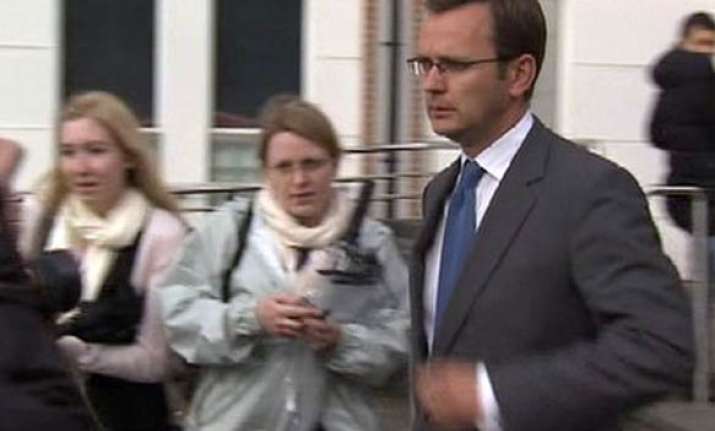 London, July 09: Former News of the World (NoW) editor Andy Coulson has been released on police bail after his arrest on suspicion of bribing police officers.

After nine hours of questioning, he said there was a lot he would like to say but could not. He denies knowledge of phone hacking when he was editor.

PM David Cameron defended his decision to employ Mr Coulson as his aide.

Late on Friday, an unnamed 63-year-old became the third man to be arrested by police investigating phone hacking.

He was arrested at an address in Surrey on suspicion of corruption. Police are currently searching the property.

Earlier, former NoW royal editor Clive Goodman, 53, who was jailed in 2007 for phone hacking, was released on bail following his arrest on suspicion of corruption.

Mr Coulson, 43, was arrested at 1030 BST on Friday by detectives investigating allegations of hacking the phones of various people in the news, and of corruption.

A number of suited men, thought to be police officers, had entered his south London home with large plastic crates at about 1200 BST.

Mr Cameron said of Mr Coulson, his former communications chief: "I became friends with him and I think he did his job for me in a very effective way. He became a friend and he is a friend."

Meanwhile, it has been revealed that Rebekah Brooks, head of the NoW's parent firm News International, is no longer heading the firm's own inquiry into the scandal.

She told News International staff in an e-mail that those carrying out the investigation would now report to Joel Klein, a US-based senior executive at the company's owner, News Corp.

On Friday, Mrs Brooks held a meeting with NoW staff at its headquarters in Wapping.

A source present at the talks told the BBC she had informed staff they would eventually understand why the Sunday tabloid had to close.

She also denied closing the NoW was a "cynical ploy", and apologised for the decision.
 
News International has said it is shutting the NoW after this Sunday's edition following a spate of fresh revelations.

The 168-year-old tabloid is accused of hacking into phones of crime victims, celebrities and politicians. Police have identified 4,000 possible targets.