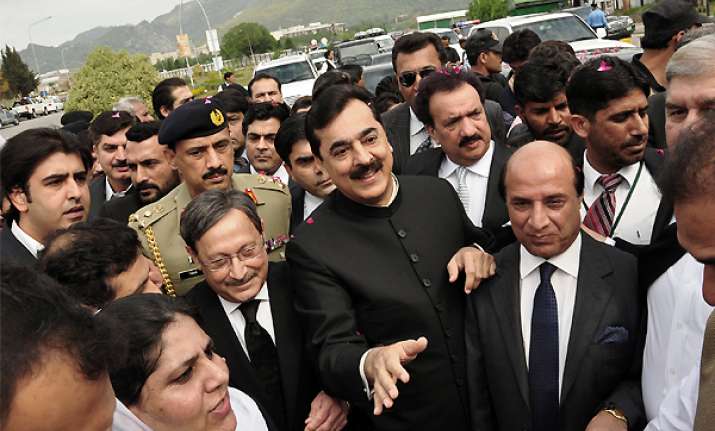 Islamabad, Apr 29: Two petitions have been filed in a Pakistani court asking it to restrain Prime Minister Yousuf Raza Gilani from holding office in the wake of his conviction for contempt by the Supreme Court.
The petitions filed in the Lahore High Court yesterday asked it to direct Gilani to explain under which law he was claiming to be the chief executive of the country after his conviction.
The petitions were filed by Shahid Naseem Gondal and Rana Ilamuddin Ghazi, who are known for approaching courts on such issues.
The petitioners' lawyer A K Dogar, also the counsel for Jamaat-ud-Dawah chief Hafiz Mohammad Saeed, said the apex court had convicted and sentenced Gilani for failing to reopen corruption cases against President Asif Ali Zardari.
After the conviction, Gilani could not hold the office of Prime Minister, Dogar contended.
He claimed Gilani had ceased to hold office and that under Article 199(1b) of the Constitution, the Premier is liable to show under what authority he claimed to hold his office.
Dogar asked the High Court to restrain Gilani from holding office and "misusing" facilities connected with it.
In a separate development, Gilani has been served with a legal notice by Azhar Siddique, a lawyer of the Supreme Court who contended that his continuation in office is a violation of the Constitution.
The notice said Gilani must leave office, failing which Siddique will approach the courts to get the office vacated.
Siddique said he had sent copies of the notice to the Speaker of the National Assembly, Chief Election Commissioner, Attorney General and the Registrar of the Supreme Court.
Following his conviction, Gilani has said he can be disqualified only by the Speaker of the National Assembly.