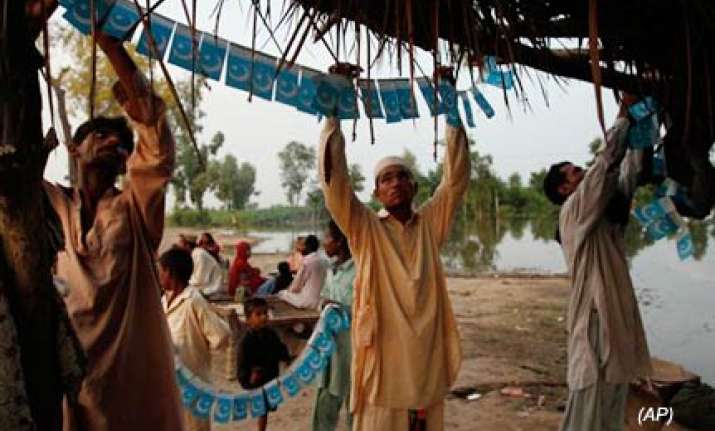 A case of the deadly, waterborne disease cholera has been confirmed in Pakistan's flood-ravaged northwest, and aid workers expect it is not isolated, the UN said on Saturday.
The chilling discovery underscores the latest threat to the (m) millions whose lives have been disrupted by the crisis and came as new flood surges hit the south.
Pakistan toned down its usually festive Independence Day celebrations on Saturday amid a flooding disaster that has displaced millions of its citizens, damaged its economy and undermined its political stability as Islamist extremist violence continues.
Officials cancelled the colourful, fireworks-heavy ceremony normally held at midnight on August 14, the anniversary of Pakistan's creation and independence from Britain in 1947.  But Prime Minister Yousuf Raza Gilani participated in a flag-raising in the morning, and TV channels broadcast stories about the country's early years.
Government leaders were expected to spend much of the day visiting flood victims amid warnings that more surges may be on the way, threatening cities and towns along main rivers.  
The floods have disrupted the lives of 14 million people - 8 percent of the population.  Triggered by unusually heavy monsoon rains, the floods have torn through the country from its mountainous northwest, where the fight against al-Qaida and the Taliban is taking place, and spread down the country's major rivers to the heavily populated Punjab and Sindh provinces.  
They destroyed hundreds of thousands of homes and an estimated 1.7 million acres of farmland.  
In Muzaffargarh, a major city of about 250-thousand people in Punjab province, people were evacuating the flood waters on foot, by truck and on trolleys on Friday, carrying whatever belongings they could save.
"My house was swept away in flood water, I have no shelter,no clothes and nothing to eat. I am living in misery," said one flood victim.  
In southern Pakistan, the river Indus is now more than 25 km wide at some points - 25 times wider than during normal monsoon seasons.  Many flood victims are living in muddy camps or overcrowded government buildings, while thousands more are sleeping in the open next to their cows, goats and whatever possessions they managed to drag with them.  
The UN has appealed for 460 million US dollars to help Pakistan get immediate relief, but officials have said the country will need  billions to rebuild after the waters recede.
The damage to the Pakistani government's credibility, which was already shaky, may be even harder to repair, especially after fury caused by President Asif Ali Zardari's decision to visit Europe as the crisis was unfolding.
Pakistan was already struggling to battle a violent Islamist militant movement on its soil, and its offensives were considered important to the US goals in the war in neighbouring Afghanistan. AP