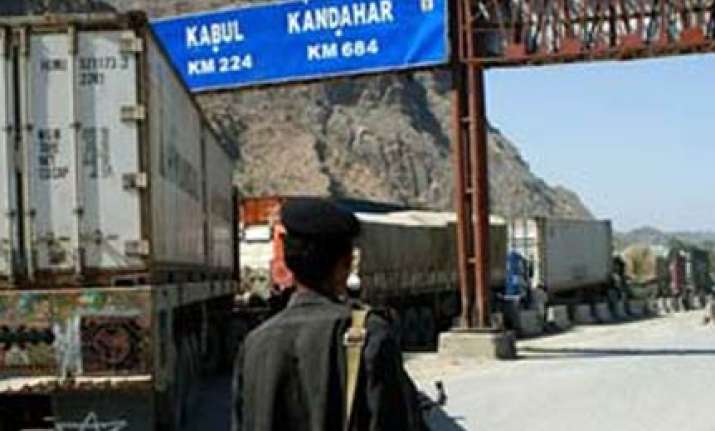 Islamabad:  Pakistan will reopen a key border crossing used to transport supplies to NATO troops in Afghanistan, authorities said Saturday -- the 10th day of a blockade that has raised tensions with Washington and left stranded trucks vulnerable to attacks.
In a short statement, the Foreign Ministry said it decided to reopen the border after assessing security and that authorities on both sides of the border were now coordinating to resume the supply traffic smoothly. The statement said the decision would have "immediate effect" but when trucks would start crossing the border was not clear.
Pakistan closed the northwest crossing at Torkham on September 30, the same day a NATO airstrike killed two Pakistani soldiers along the border. The U.S. on Wednesday apologized for that strike after an investigation concluded the "tragic event could have been avoided with better coalition force coordination with the Pakistan military."
Pakistan is a key supply route for fuel, military vehicles, spare parts, clothing and other non-lethal supplies for foreign troops in Afghanistan. Though a smaller crossing in the southwest has remained open, the closure of Torkham has left scores of trucks stranded on their way from the port city of Karachi.
In the latest in a steady stream of attacks, gunmen armed with a rocket attacked 29 tankers carrying NATO fuel supplied in southwestern Pakistan before dawn Saturday, setting them ablaze. Two responding police officers were wounded.
Local government official Abdul Mateen said the attack occurred in the area of Mithri, about 120 miles (200 kilometers) east of Quetta, the capital of Baluchistan province. He said the attackers used guns and fired a rocket to destroy the tankers."We are facing problems in extinguishing the fire," he said.
At least 10 gunmen were involved in the attack, police official Jamil Khan said. The oil tankers were parked near a roadside restaurant.
When local police responded, the gunmen fired on them before fleeing. One officer was wounded by a bullet, while another suffered slight burns as he tried to stop the blaze, Mateen said.AP