Follow us on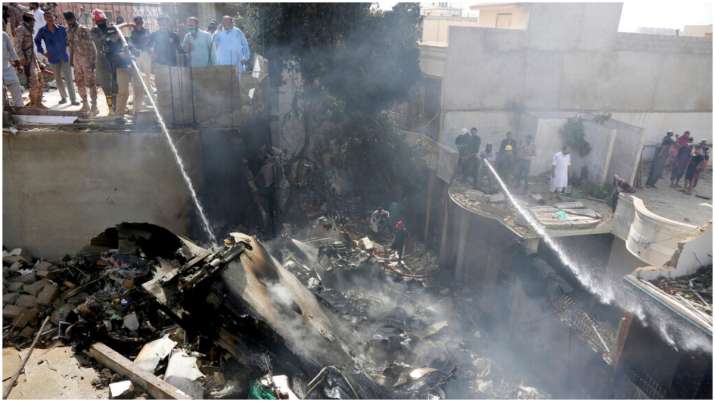 Pakistan Plane crash: News of PIA (Pakistan International Airlines) crash has rocked the subcontinent and aviation industry. The Airbus A320 took off from Lahore airport for Karachi and crashed near Karachi airport minutes before it was to land. The plane carried 107 people onboard out of which 99 were passengers and 8 were flight crew.
What makes the incident tragic that this was the first flight that took off after coronavirus lockdown in Pakistan. It is not yet known exactly what was the exact reason behind the crash but technical glitch is said to be the cause.
PIA pilot's last words before the tragic crash appear to suggest the same. According to the recording obtained by Pakistani media, here are PIA pilot's exact words before the fatal crash.
'We've lost an engine. Mayday, mayday,' the pilot can be heard saying in the final moments.
'Mayday' is a code-word used by pilots and Air Traffic Control (ATC) to quickly convey that the situation is extremely dire and the plane is about to crash. The use of the word Mayday is rare and everyone in the aviation industry takes extreme care that the word is not used to describe minor situations. The use of the word 'Mayday' by a pilot triggers a massive operation on ground as it is considered that a disastrous situation is about to unfold. 
In a tragic turn of events. The PIA flight crashed before much could be done to prevent the crash.
Sindh health department said that 57 people have been confirmed dead so far. However, it is not yet clear if the deceased are from the crashed plane or the area where the crash took place, the Dawn newspaper reported. Sindh Health Minister Azra Pechuho said there are three survivors.
ALSO READ I PIA Plane Crash: Watch dramatic footage of crash site recorded from second plane landing moments after tragedy
ALSO READ I PIA Plane Crash in Pakistan: 57 dead; Bank of Punjab President among 3 survivors