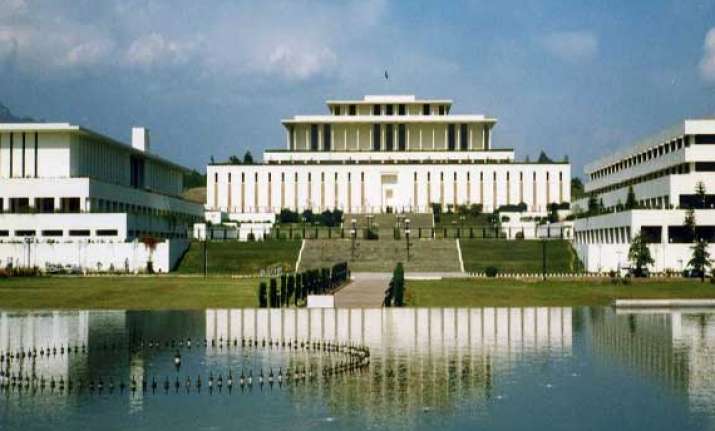 Islamabad: Pakistan's parliament Wednesday adopted a long awaited anti-terror law to deal effectively with insurgents who are fighting against the country's security forces.
The Protection of Pakistan Bill 2014 allows the security forces to shoot suspects at sight with the permission of an officer, Xinhua reported.
The bill, which seeks "to provide for protection against waging of war against Pakistan and the prevention of acts threatening the security of Pakistan", will provide law enforcement personnel with additional powers.
Several major opposition parties supported the bill, but two main religious groups, - Jamiat Ulema-i-Islam and Jamaat-i- Islami - opposed it in the National Assembly or lower house. Another opposition party, Tehrik-e-Insaf, abstained from voting.
Minister for Science and Technology Zahid Hamid, who moved the bill, told the National Assembly that the government has taken on board all the leaders of parliamentary parties in order to get their recommendations regarding the bill.
The bill has already been passed by the Senate or upper house, and will become an act after the president signs it.
"It will send a message that the government stands with the military in the operation against terrorists in the tribal regions," the minister said.
The law was passed at a time when the security forces are engaged in a major military offensive in North Waziristan tribal region.
The law has given powers to law enforcement agencies to enter and search, without warrant, any premises to arrest anyone who has in his possession any firearm, explosive weapon, vehicle, instrument or article used, or likely to be used and capable of being used in the commission of any scheduled offence.
Under the new law, the physical remand period for a suspect during detention has been fixed at 60 days and, on reasonable ground, the government has the right to hold a detainee for 90 days at a designated internment camp.