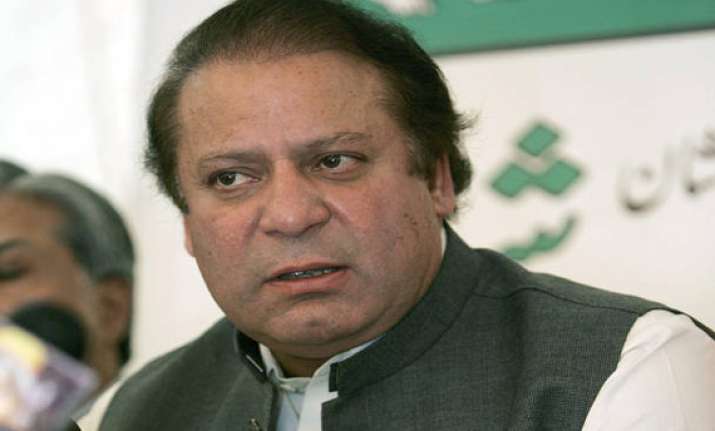 Islamabad: Pakistan's political crisis showed no signs of resolution today with talks between the government and protesters failing on the issue of Prime Minister Nawaz Sharif's resignation.
After the fifth round of talks, Pakistan Tehreek-i-Insaf (PTI) chief Imran Khan called off the dialogue with the government, saying that he will not be able to get justice as long as Sharif stays on as Prime Minister.
The hardening of stance came even as the Supreme Court ordered the demonstrators to clear the Constitution Avenue by tomorrow.
Facing his toughest test since coming to power last year, a defiant Sharif today brushed aside the demand of protesters asking him to quit saying the country has survived "difficult times" and the current political crisis too shall pass.
Political stalemate has continued for the last two weeks with Khan-led PTI and cleric Tahir-ul-Qadri's Pakistan Awami Tehreek (PAT) refusing to budge from their demand of the Prime Minister's resignation over allegations of rigging in last year's general election and killing of 14 PAT supporters in Lahore on June 17.
The talks between the PTI and the government ended in a stalemate today with the sticking point being the protesters' demand of Prime Minister's resignation.
"There will be no negotiations with your team now. No resignation, no negotiations," Khan told a crowd of supporters outside the Parliament.
"Nawaz Sharif is buying time. If we let him stay, he will buy officials and media houses," Khan said.
"We offered concessions, we agreed for the Prime Minister to resign only for 30 days, but they know what would happen if they allow investigations to proceed," the cricketer-turned politician said.
"If you pull back, there will be no independent inquiry under Nawaz Sharif," Khan said. He claimed that the government offered to make him deputy prime minister.
Khan's move to call off talks came after Qadri's 48-hour ultimatum to Sharif to step down expired. Qadri announced the deadline for the government to quit on Monday after talks with the government failed to make any headway.
Meanwhile, a five-judge bench of the Supreme Court, headed by Chief Justice Nasir-ul-Mulk, gave the order for PTI and PAT protesters to clear the Constitution Avenue, including a road in front of the apex court and the Parliament.
The order was given during the hearing of identical petitions filed by bar associations across the country against the PAT and PTI sit-ins.