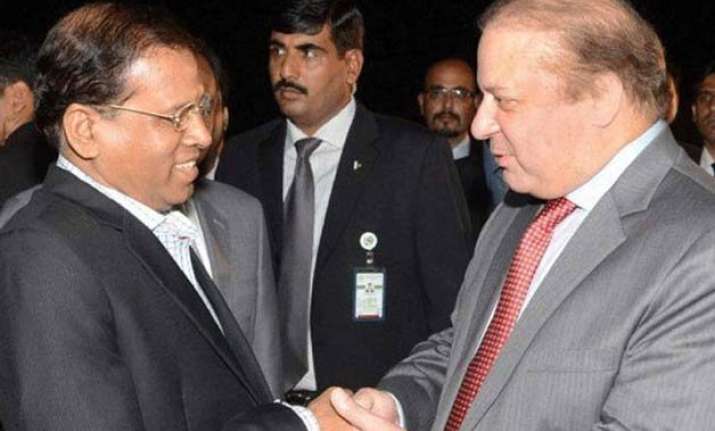 Islamabad: Pakistan and Sri Lanka today signed six agreements including one on nuclear cooperation, two months after Sri Lanka inked an atomic deal with India, as the two countries agreed to deepen ties in various fields.  The agreements were signed after Pakistan Prime Minister Nawaz Sharif had a meeting with visiting Sri Lankan President Maithripala Sirisena here.
According to an official statement the two countries signed a Memorandum of Understating (MoU) "for cooperation between Pakistan Atomic Energy Commission and Atomic Energy Authority of Sri Lanka".
The two sides also decided to increase the current trade of USD 438 million to USD 1 billion within the next few years.  Other agreements included one on cooperation against illicit trafficking in narcotic drugs, psychotropic substances and academic cooperation agreement on exchange and collaboration between Pakistan's National Defence University and Sri Lanka's Lakshman Kadirgamar Institute of International Relations and Strategic Studies.
Sri Lanka's nuclear pact with India in February during Sirisena's first foreign visit after assuming office entailed cooperation in the transfer and exchange of knowledge and expertise, sharing of resources, and capacity building and training of personnel in peaceful uses of nuclear energy.  
Sri Lanka and Pakistan also singed MoUs in the field of sports, shipping and disaster management. The two leaders held a one-on-one meeting which was followed by delegation level talks discussing a range of subjects.
Sharif said that Pakistan attached great importance to its relations with Sri Lanka.
"There is immense goodwill in Pakistan for Sri Lanka which should permit us to develop even more close and cooperative relations in all fields including political, economic and defence," he said.