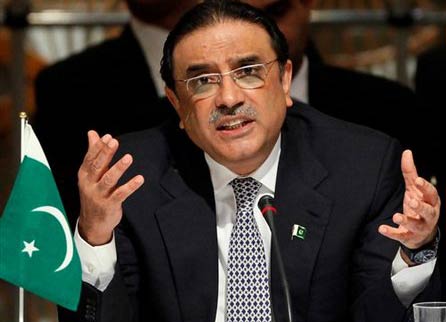 Islamabad, Nov 8:  Pakistan has claimed it had gone "out of the way" in its peace overtures towards India but failed to get a positive response, after US President Barack Obama asked the two nations to begin talks on "less controversial issues" and resolve their differences.
Claiming that Islamabad wants early resumption of the composite dialogue process with India, Pakistan President Asif Ali Zardari said that his country stands for peace in the region and the world.
Pakistan, he said, was "cooperating in unearthing and bringing to justice the perpetrators of militant acts".
"The democratic civil government went out of the way in our peace overtures towards India. It would have been most helpful if our initiatives had been welcomed and responded to in a positive manner," Zardari told delegates of a national conference of the South Asia Free Media Association at the presidency yesterday.
The composite dialogue between the two countries was put on hold after 10 Pakistan-based terrorists carried out attacks in Mumbai, killing 166 people in November 2008.
He said that his government will not let "Pakistani soil to be used by the terrorists against any country".
Pakistan will "never allow a handful of terrorists and extremists to impose their extremist ideological agenda on the people through force," he said.
The blame game will not serve the cause of the war against militancy and the international community should understand and appreciate Pakistan's determination to fight militancy, he said.
Interacting with students in Mumbai, visiting President Obama yesterday expressed hope that over time, trust develops between India and Pakistan and dialogue begins perhaps on "less controversial issues building upto more controversial issues".
Commenting on Pakistan's fight against militancy, he said, "From the very outset, we faced the challenge of militancy but we came out in the open against militants and took them head on".
"The undeclared policy of running with the hare and hunting with the hound was abandoned," he said.
Zardari, who spoke on the theme "setting a National Agenda on Media, Democracy and Good Governance," said the government wants to implement slain former premier Benazir Bhutto's vision of a peaceful South Asia through economic integration. PTI