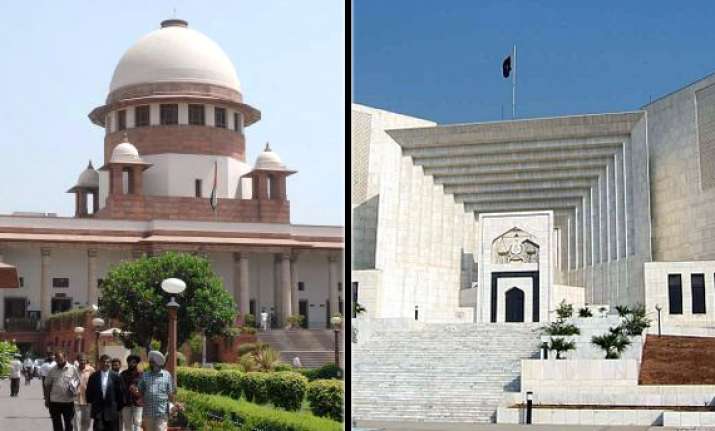 New Delhi, Jun 20: The legal fraternity was today divided on the appropriateness of the citing of Indian Supreme Court verdicts by the Pakistan's apex court while disqualifying Prime Minister Yousuf Raza Gilani.
While legal experts noted that it was normal for courts across the world to refer to judgements of foreign courts they differed on the relevance of the reference made in Pakistan Supreme Court's verdict to the Indian apex court's judgements of 2007-- one in the case of Uttar Pradesh Assembly and another Haryana Assembly, both relating to disqualification of legislators by the Speaker.
Some senior lawyers and Constitutional experts noted that the Supreme Court verdicts referred to by the Pakistan court related to disqualification of MPs in connection with anti-defection and not contempt.
However, some others opined that the relevance of the judgements is to be decided by Pakistan Supreme Court which had found them applicable.
The two judgements of Indian SC cited by Pakistan apex court has "nothing to do with the situation in Pakistan", according to senior advocate Rajeev Dhawan.  He said that under the Indian anti-defection law, the court can only question the Speaker's decision to disqualify an elected member and cannot disqualify him/her on its own. 
"They (court) cannot directly disqualify any elected representative," Dhawan stated. On the contrary, under Article 63 of Pakistan's Constitution, the Election Commission decides the question of disqualification.
However, constitutional expert and former Secretary General of Lok Sabha Subhash Kashyap was of the opinion that "the Supreme Court is supreme in matter of Constitution" in both India and Pakistan.
"The Supreme Court's jurisdiction runs over the Election Commission also. The legal position is that there is no appeal against the Supreme Court judgement. Only a review can be requested," he said.
Kashyap said reference to foreign courts' judgements "happens all the time".
The two judgements referred to by the Pakistan's Supreme Court relate to disqualification of legislators on the ground of defection.
In 'Jagjit Singh vs State of Haryana', the Supreme Court of India suggested to Parliament that the power of disqualification of an MP should be exercised by the Election Commissioner and not the Speaker. The case related to diqualification of an MLA Jagjit Singh who had split from NCP to form a new party.
In 'Rajendra Singh Rana vs Swami Prasad Maurya', the apex court of India ruled the Speaker has to act "fairly" as a "Tribunal" while deciding on the question of disqualification of the legislators. The case related to disqualification of 13 BSP MLAs for defection.