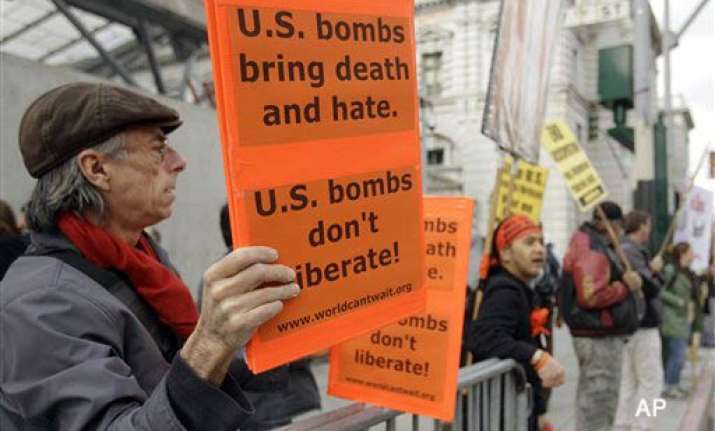 Washington, Mar 23 : With BRIC nations - Brazil,Russia, India, China and South Africa, calling for ceasefire in Libya, a top Pentagon official today said that the onus for this lies with the Gaddafi forces, which needs to pull back its troops from cities and stop attacking civilians.
Until that happens, the US-led coalition forces would continue with its military operations to enforce the no-fly-zone over Libya and protect the civilians in the country as mandated by the UN Security Council resolution number 1973.
"To achieve our mission, the innocent civilians in the population centers must be protected, that Gaddafi's forces must cease fire and all attacks against civilians must stop,the forces of Gaddafi must be pulled back from Adjabiya, Misurata and Zawiyah," said Admiral Gerald P Hueber, Chief of Staff, Joint Task Force Operation Odyssey Dawn.
"Our efforts have been going well. I can't speculate on conclusion dates, but I want to stress this is a multi-phase operation designed to enforce the UN Security Council resolution and deny the Libyan regime the ability to use its force against its own people," Hueber told Pentagon correspondents in a teleconference from USS Mount Whitney.
To achieve the mission, Hueber asserted that innocent civilians in population centers must be protected, Gaddafi's forces must cease fire, all attacks against civilians must stop, forces must have stopped advancing on Benghazi and be pulled back from Adjabiya, Misurata and Zawiyah, and humanitarian assistance must be allowed to reach the people of Libya.
"Gaddafi's forces have not met those requirements and are in clear violation of the UN Security Council Resolution 1973. There is widespread reporting indicating Libyan ground forces are engaged in fighting in a number of cities,including Ajdabiya and Misurata, and they are threatening a number of others, putting innocent civilians in grave danger," he said.
"In Ajdabiya, regime forces intensified combat in,into and out of the city. In Misurata, regime forces continue to clear opposition, increase combat operations and target civilian populations in the city.As a result, we are pressurizing Gaddafi's forces that are attacking those civilian populations," he said.
Hueber said the US-led coalition forces have now established a no-fly zone."We have attained maritime superiority, put in place embargo operations, interdicted ground forces, suppressed enemy air defenses, and are allowing for humanitarian assistance, all as a coalition operation," he said.  
Noting that the Libyan air forces have been interdicted and attrited, the US Admiral said those aircraft have either been destroyed or rendered inoperable.
"We have no confirmed flight activity by regime air forces over the past 24 hours. The coalition air forces are now flying 55 per cent of the entire sorties of this
coalition.We calculate those sorties in a 24-hour cycle, and of yesterday, the 22nd of March, there were 175 aircraft sorties, 113 of which were US and 63 coalition," he said.
That number has increased, just from three days ago,where we were flying a 15 per cent coalition sortie rate.
"In air defence activities, we have degraded the Libyan strategic surface-to-air missile system to a negligible threat. We believe that air defence systems elements are severely degraded or destroyed, and have been, by these coalition forces.
We have seen no related surface-to-air activity associated with target acquisitions since strikes began on March 19th," the Admiral said.The Coalition will continue its focus on the regime's air force network that continues to pose a threat to coalition air operations enforcing the no-fly zone.
"We are putting pressure on Gaddafi's ground forces that are attacking civilian populations in cities. And while those ground forces are engaged in fighting in Ajdabiya and Misurata, and are threatening those number of others, that pressure from Joint Task Force Odyssey Dawn coalition partners will continue," he said. PTI