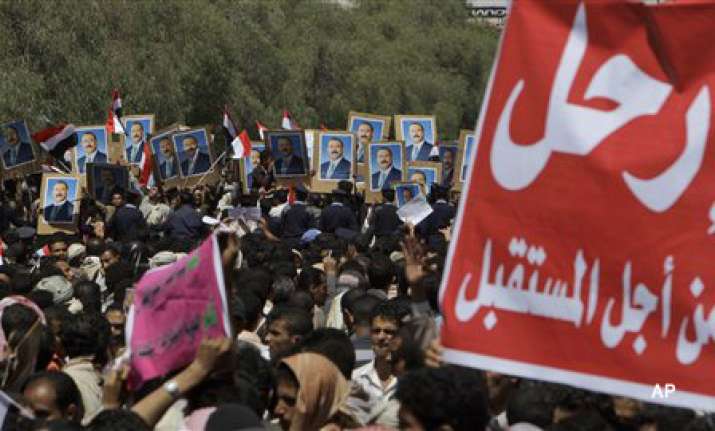 Sanaa, Feb 20: Hundreds of Yemeni students demonstrated today on the eighth straight day of anti-regime protests in Sanaa, while police shot dead a protester in the south and the opposition vowed to join protests.
In Sanaa, students gathered outside the university's campus chanting slogans demanding the ouster of President Ali Abdullah Saleh, in power for 32 years, the correspondent said.Around 100 of Saleh's supporters held a counter protest across the street from the campus while police set up a cordon to separate the two groups.
Pro- and anti-Saleh demonstrators have clashed violently over the past week in Sanaa with guns, batons and rocks with anti-regime protesters calling on the president to quit.Yesterday, the police did not intervene as fierce clashes left five students wounded, according to an AFP correspondent.
Today, Yemeni police shot dead a protester in the southern regional capital Aden, medics and witnesses said,raising the death toll to 11 in the restive city since February 13, according to an AFP tally.
A protester was also injured as police fired tear gas and bullets to disperse hundreds who took to the streets in Sheikh Osman neighbourhood in Aden calling on Saleh to quit, the sources said.At least 76 people, including seven soldiers, have been wounded in Aden since the protests begun, according to an AFP tally based on figures by medics and officials.
Meanwhile, Yemen's parliamentary opposition said today that it will join the street protests and will not resume dialogue with the regime.The Common Forum, an alliance of parliamentary opposition groups has urged all members to "join the protesting youths... in their demonstrations against oppression, tyranny and corruption," in a statement received by AFP.
The opposition had responded to Saleh's calls earlier this month to resume dialogue, stalled since October.
But "after bloodshed and the fall of victims, and after the government has sent its thugs onto the streets... we insist that there is no dialogue with bullets and batons," and with a regime "that brings thugs to occupy public places and terrorise people," the statement said.
Meanwhile, Saleh has ordered security services to "provide the needed protection for journalists to help them carry out their job," the state news agency Saba reported.
Journalists must be able "to serve the truth and give the right information," he said yesterday after a group of reporters accused his ruling General People's Congress party of plotting attacks on the media. (AFP)