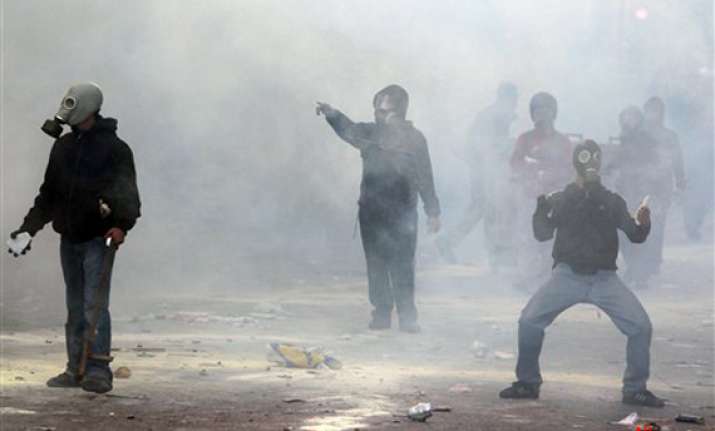 Athens, Oct 21 : Clouds of tear gas choked central Athens as rival demonstrators fought with stones and firebombs outside parliament  on Thursday, leaving one man dead and dozens injured.

Inside, the Socialist government grappled with dissent over the deeply unpopular new cutbacks demanded by creditors to keep the country afloat.
Greece has been kept solvent only by international bailout loans from the International Monetary Fund and other eurozone nations since May of last year.  Creditors have demanded that Greece pass the extra austerity measures before they give the country more funds from that USD 152 billion bailout loan.

Greece says it will run out of money in mid-November without the next USD 11 billion installment.  On the second day of a general strike that has paralysed the country, demonstrators marched to Syntagma Square before parliament to protest the new measures that include pay and staff cuts in the civil service as well as pension cuts and tax hikes for all Greeks.

The draft law calls for 30,000 public servants to be put on reduced pay and for collective bargaining rights to be suspended.State hospital officials said a 53-year-old man died of heart failure and at least 74 people were injured after hundreds of rioting youths attacked some of the 50,000 peaceful demonstrators with firebombs and stones. Some of the injured were covered in blood from head wounds.  Police said at least six people were arrested and another 24 detained. Six officers were injured.

The clashes spread across the city, even reaching outside the city's new Acropolis Museum.