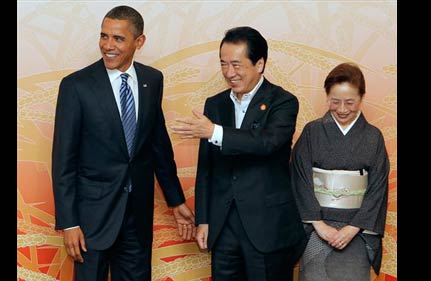 Washington, Nov 13 (PTI) US President Barack Obama has sought to dismiss notions that his international standing has diminished due to the recent election rout at home, citing his remarkable chemistry with leaders like Manmohan Singh and Angela Merkel at international summits like the G20.
Obama, on one of the longest foreign trips of his presidency, has travelled to India and Indonesia on bilateral visits, besides South Korea and Japan for the G20 and APEC summits.
Confronted by repeated questions over the fallout of the mid-term polls back home on his position in the international fora, Obama said his working relationships had in fact improved with certain global leaders over time.
Days after a memorable visit to India, Obama, 49, has special admiration for the 78-year-old Indian Prime Minister. He said he has also developed good working relationships with German Chancellor Merkel and Turkish Prime Minister Recep Tayyip Erdogan, according to reports in the American media.
"I guess what I'm saying is, that I actually think that my relationships have grown much stronger with the people who I've worked with here," Obama said in Seoul on the sidelines of the summit of the G20 group of industrialised and developing nations.
He said while the initial "hoopla surrounding my election" might have died down, his interactions with international leaders over two years has led to genuine friendships.
"He and I share a level of understanding and interest in working together that didn't exist when I first came onto the scene," Obama said on Manmohan Singh.
He also cited similar connections during the Japan leg of his visit, with Singh, Merkel and Erdogan, as also South Korean President Lee Myung-Bak, despite having failed to conclude a free trade pact in South Korea.
"That doesn't mean there aren't going to be differences," Obama said in Yokohama from where he is headed back to the US.