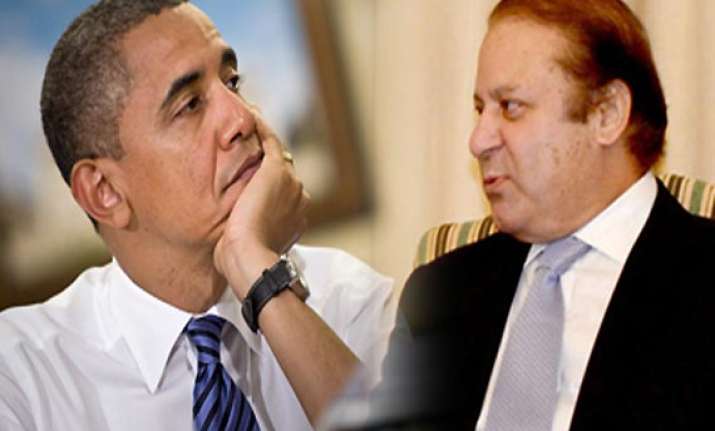 Washington/Islamabad: US President Barack Obama will host Pakistan Prime Minister Nawaz Sharif at the White House on October 23 to discuss ways to strengthen cooperation on issues of mutual concern, including terrorism, it was announced today.
"The visit will highlight the importance and resilience of the US-Pakistan relationship and provide an opportunity for us to strengthen cooperation on issues of mutual concern, such as energy, trade and economic development, regional stability, and countering violent extremism," White House Press Secretary Jay Carney said.
Obama looks forward to discussions with Sharif on ways the two countries can advance their shared interest of a stable, secure, and prosperous Pakistan, Carney said.  The announcement came hours before Prime Minister Manmohan Singh's visit to Washington for a meeting with President Obama at the White House tomorrow.  
In Islamabad, Prime Minister's Office said in a statement that Sharif will meet Obama to discuss ways to deepen bilateral ties with focus on trade.
The meeting was firmed up when US Secretary of State John Kerry called on Sharif in New York.
This would be Sharif's first meeting with Obama since he took over as the Prime Minister following the historic general elections on May 11.
During the meeting with Kerry, the two sides reviewed the state of bilateral relationship and agreed to intensify the engagements in the coming weeks and months to further expand and deepen bilateral cooperation in all areas.
It was also agreed to convene meetings of the various Working Groups under the revived Strategic Dialogue mechanism.Sharif noted that improvement in security, revival of economy and overcoming the energy crisis were the key priorities of his government, the statement said.
The Prime Minister also emphasised that greater trade between Pakistan and the US would contribute to the economic prosperity of the people of Pakistan and help in evolving a mutually beneficial relationship between the two countries.  Kerry extended an invitation to Sharif from President Obama to visit Washington.
This high level interaction, Secretary Kerry stressed, would provide the necessary impetus to move towards a long term Pakistan-US engagement.