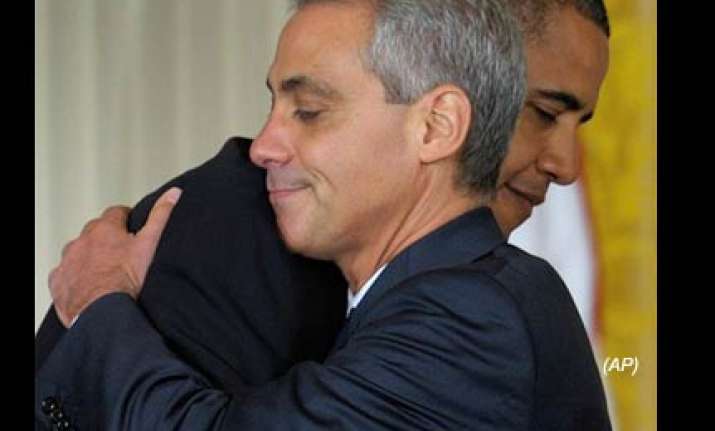 WASHINGTON:  President Barack Obama's feisty chief of staff left the administration just weeks before critical congressional elections, a move that could presage an even greater White House turnover should Democrats do as poorly as predicted in the coming vote.  
Rahm Emanuel headed immediately for Chicago, Illinois, his hometown, where he planned to run for mayor, a position he has coveted publicly.
The White House chief of staff sets the tone for the executive branch's operations and can, in principle, be seen as largely responsible for success or failure of presidential policy directives. As gatekeeper, the person who holds the chief of staff position manages the president's time and has a major role in decisions about access to the president.  
In Emanuel's case, given that he had been a high ranking member of the Illinois delegation in the House of Representatives, he also played a crucial legislative liaison role for Obama. He was a central figure in pushing the president's legislative agenda through one of the most bitterly divided congresses in recent history. The hard-charging and famously profane Emanuel was replaced Friday by Pete Rouse, a man as quiet and low-key as his predecessor was boisterous and blunt.  
The ceremonial changing of the guard in the glittering White House East Room was a clear loss for Obama, who relied heavily on Emanuel's intensity, discipline and congressional relationships to keep the White House focused.  
Other top aides to Obama already had announced their departure in recent weeks, as the Obama presidency reached its midpoint. Those kinds of personnel moves are not unusual two years into a presidential term.
The changes occur, however, with Obama's Democratic Party facing serious challenges in the Nov. 2 congressional elections. Widespread losses by the party, broadly expected in both the House of Representatives and Senate, could signal a much wider White House shake-up.  
The mood at the announcement reflected that this was no ordinary staff change. Cabinet members and senior staff members packed the room, a setting often reserved for visiting heads of state.
Rouse, the interim replacement, is a calm, trusted senior adviser to Obama who has spent much of his career as a chief of staff in the Senate. Unlike Emanuel, he rarely talks to the press. "There is a saying around the White House: `Let's let Pete fix it,"' Obama said. Through the ceremony and befitting his style, Rouse stood quietly by the president and never spoke. Obama described him as never seeing a television.AP