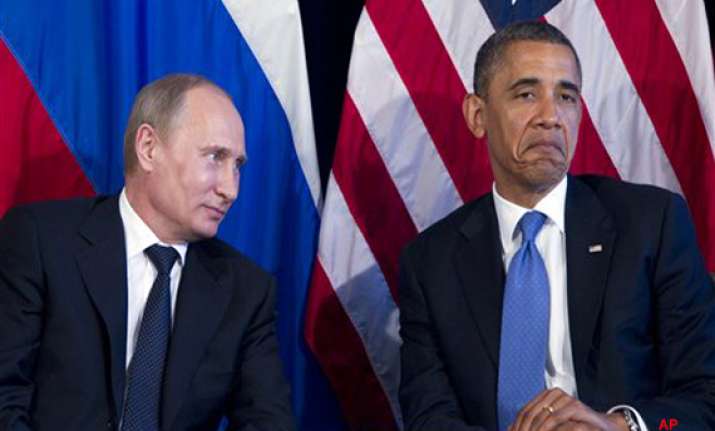 Los Cabos, Mexico, June 19 : US President Barack Obama and Russian President Vladimir Putin agreed on Monday that Syrians should choose their own next government, marking a subtle shift for both the United States and Russia as they confront the prospect that Russia's main ally in the Mideast could slide into civil war.
Sharing pledges of cooperation, yet hardly much eye contact or obvious kinship in front of reporters, Obama and Putin met for the first time since the Russian leader returned to the presidency last month.
 Obama spoke at greater length, emphasizing several areas of cooperation between the onetime Cold War enemies, but the unending bloodshed in Syria hung over the talks.
The two leaders "agreed that we need to see a cessation of the violence, that a political process has to be created to prevent civil war and the kind of horrific events that we've seen over the last several weeks," Obama said.
Putin, seated next to Obama following the private meeting, said: "We've been able to find many commonalities" on Syria.
But he offered no specifics on what those were, and it was unclear how much the closed two-hour talk did to close strategic gaps about how to end the violence.
Russia has refused to call for the ouster of Syrian President Bashar Assad, an ally, and neither leader mentioned him by name Monday.
In a departure from previous statements, Obama called for a "political process," that would bring violence to an end in Syria, but he did not say Assad must go.
Obama's careful language appeared designed to give the Russian some elbow room. In other settings, he and other White House officials have been forceful in insisting that Assad must step aside.
The United States and Russia share a goal of a "political transition to a democratic, pluralistic political system that would be implemented by the Syrians themselves," a joint statement issued on the sidelines of the Group of 20 economic summit said.
The G-20 gathering is a natural forum for sideline discussions of the urgent crisis in Syria as well as diplomatic efforts to head off a confrontation with Iran.
The European fiscal crisis was the main topic for the 20 leaders when they convened later Monday.
The White House sought to move beyond the differences over Assad's future, focusing instead on casting Russia's public call for political progress as key area of common ground between the U.S. and Russia.
White House officials said that basic level of agreement with Moscow could pave the way for more productive negotiations about Syria in the future.
Obama did make the case for Assad's exit during his private talk with Putin, White House deputy national security adviser Ben Rhodes told reporters later Monday.
Obama and Putin had a brisk handshake at the end, and their tones were cool.
 Putin campaigned last year with some of the harshest anti-American rhetoric from Russia in a decade, and his return to the top job in Russia ensures that cooperation with the United States will come at a cost.
White House officials played down the notion of tense relationship between the two leaders, saying the businesslike approach was simply Putin's style.
"That's the way he looks. That's the way he acts," said Michael McFaul, the U.S. ambassador to Russia.
Putin spokesman Dmitry Peskov said the meeting was "very open" and not confrontational.
While there are areas of disagreement, Peskov said both leaders affirmed their willingness to find "mutual solutions to existing problems."
Obama voiced similar hope he and Putin could "find constructive ways to manage through any bilateral tensions."
The ongoing violence in Syria is among the most pressing issues facing both countries.
Syrian opposition groups estimate 14,000 people have died in the brutal clashes between anti-government protestors and pro-Assad forces.
Hopes for a diplomatic resolution have rested on Washington and Moscow agreeing on a transition plan that would end the four-decade Assad family rule.
Russia, as Syria's longtime ally and trading partner, is seen as the best broker for a deal that could give Assad political refuge.
So far, Moscow has said no.
Pressure increased on Russia over the weekend, when the United Nations suspended its unarmed monitoring mission in Syria out of concern for the monitors' safety.
The move was widely interpreted as a challenge to Russia to intervene with Assad to preserve a U.N. role Moscow sees as a brake on any armed foreign intervention.
Meanwhile, Obama's leverage and options are limited.
The United States has refused to arm anti-Assad rebels, in part to avoid confrontation with Russia, which has armed the Syrian regime for years.
Although Moscow fears one, there is little chance of a military campaign like the one that led to the ouster of Libyan strongman Moammar Gadhafi last year.
Russia has angrily charged that the U.S. and other nations went beyond the bounds of the United Nations Security Council humanitarian mandate in Libya, and have blocked U.S. efforts to win an arms embargo or other tougher Security Council measures on Syria now.
In the days leading up to the G-20, Secretary of State Hillary Clinton angered Russia by charging that it was equipping the Syrian government with attack helicopters that could be used against civilians.
She later acknowledged they were helicopters already owned by Syria that were being repaired in Russia, but the U.S. has let the charge of possible use against civilians stand.
Clinton was among the U.S. officials who participated in Monday's meeting with the Putin.
"We'd like to see arms sales to the Assad regime come to an end, because we believe they've demonstrated that they will only use their military against their own civilian population," Rhodes said.
Russia insists that any arms it supplies to Syria are not being used to quell anti-government dissent.
Russia and Syria have a longstanding military relationship and Syria hosts Russia's only naval base on the Mediterranean Sea.
Rhodes confirmed that Russia is dispatching two warships with a unit of marines to protect Russian citizens and the base.
Beyond Syria, Obama and Putin discussed diplomatic efforts to head off a confrontation with Iran. Obama said he emphasized a common approach to Iran, asserting there was "still time and space to resolve diplomatically" concerns about nuclear weapons.
The U.S. has sought Russia's help to lend legitimacy to the argument that Iran faces broad international condemnation. Iran usually paints the dispute over its nuclear program as a confrontation with the U.S. and its ally Israel.
The Obama-Putin meeting was held as Moscow played host to an international negotiating session with Iran. Russia has gone along with U.N. Security Council efforts to tighten some penalties against Iran because of questions about its nuclear weapons ambitions, but has blocked the harshest punishments.
Obama made a special project of Russia in his first term and arguably needs Moscow's help even more if he wins a second one.
He is trying to avoid a distracting public spat with Russia during this election year, as suggested by an overheard remark to outgoing Russian President Dmitry Medvedev in March.
Obama told Medvedev he would have more flexibility to answer Russian complaints about a U.S.-built missile defense shield in Europe after the November election.