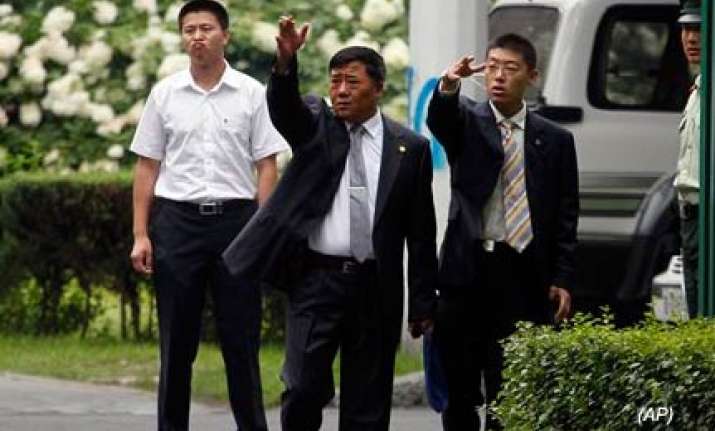 CHANGCHUN, China : North Korean dictator Kim Jong Il was said to be traveling with his youngest son on a rare trip to China on Friday, re-igniting speculation the younger Kim will take over the reigns of the reclusive communist nation in coming years.
The highly unusual visit to China was Kim's second in three months and its timing even more odd because it came as former President Jimmy Carter was in North Korea to win the release of an imprisoned American. Carter and 31-year-old Aijalon Gomes, sentenced to eight years of hard labor and fined $600,000 for entering the country illegally, left Pyongyang on Friday morning.
South Korean media and regional analysts speculated Kim may be seeking Chinese aid following flooding in his impoverished country's northwest and was seeking support from his closest diplomatic ally for the succession of his son, Kim Jong Un.
Choi Jae-sung, an opposition lawmaker in South Korea's parliamentary intelligence committee, told The Associated Press that Kim Jong Un _ the North Korean leader's third and youngest son _ accompanied his father, citing unidentified sources.
Choi said Kim Jong Il had breakfast with a member of the China's powerful Politburo Standing Committee in his hotel in Jilin, where he apparently spent the night.
Neither country has commented publicly on Kim's trip, although Japanese television showed grainy images shot from a great distance of what appeared to be Kim.
The trip has included a pilgrimage to a school in Jilin which Kim's father, the late President Kim Il Sung, attended from 1927 to 1930 after his family fled the Japanese occupation of Korea. Kim biographies say he began absorbing communist ideology there, making it a pilgrimage site for North Koreans seeking to pay homage to the one-time anti-Japanese guerrilla fighter-turned-president.
Such a visit just days before the 100th anniversary of Japan's colonization of Korea carries symbolic weight as well. North Korea tends to play up the Kim family's patriotism during succession campaigns. Many North Korea watchers predict the son will be appointed to a key party position at a rare ruling Workers' Party meeting early next month.
It is not known whom Kim was to meet on this trip. South Korea's MBC television reported that Kim may have met President Hu Jintao in Changchun. It cited an unidentified diplomatic source in Beijing as saying Hu arrived in the afternoon and the two held talks at the city's South Lake Hotel.
For its part, China is certain to use Kim's visit as an opportunity to prod North Korea toward rejoining international talks aimed at nuclear disarmament.
China has hosted the six-nation talks since 2002 but North Korea walked away from them last year in protest over the international condemnation that followed its testing of a long-range missile. Prospects for restarting negotiations were undermined further after a South Korean warship sank in March, killing 46 sailors. Seoul and Washington accuse North Korea of torpedoing the vessel, while the North denies involvement and has threatened harsh retaliation if punished.
Meanwhile, Carter left North Korea on Friday after a three-day private mission to negotiate Gomes' release. North Korean state media said Kim granted a special pardon after the former president "courteously requested" it. Gomes' motive for entering North Korea was not clear.
There was no indication Carter met Kim, who sat down for talks and a well-publicized photo with former President Bill Clinton a year ago. Clinton was on a similar journey to negotiate the release of two American journalists. AP