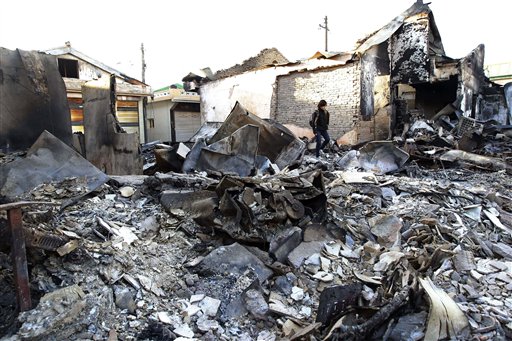 UNITED NATIONS: The UN Security Council is agonising over how to answer North Korea's artillery attack on the rival South with no meeting yet called on the deadly assault.
The caution of the major powers is a sign of the lack of answers to North Korea's decades of military outrages and nuclear brinksmanship, said diplomats and experts.
UN Security Council members held consultations on the attack yesterday and British ambassador Mark Lyall Grant said behind-the-scenes talks would continue through at least today.
The permanent Security Council powers -- United States, China, Russia, Britain and France -- are concentrating on consultations at government level, officials said, stressing the caution with which all wanted to proceed.
No country has asked for a special meeting of the Security Council over the missile attack in which two South Korean soldiers and two civilians were killed.
It is possible that the Security Council, the United Nations' guarantor of international peace, will take no action over Tuesday's attack on the South Korean island of Yeonpyeong, diplomats said.
"This is the problem from hell if you are a policymaker," commented Leon Sigal, a veteran analyst on the West's dealings with North Korea.
"There really is no indication that something will happen," said one Security Council nation diplomat, speaking on condition of anonymity.
The council's response to North Korea's sinking of a South Korean warship in March still gives nightmares to many representatives. No meeting or statement was agreed until July -- nearly four months later.
The statement condemned the sinking of the ship, in which 46 South Korean navy crew died, but did not blame the North, which denies involvement.
"Everyone was shocked by the Cheonan (warship) affair," said another diplomat. "No one wants to throw their energy into a meeting for no reason. Everyone wants to wait.
"The Chinese are dragging their feet, it's true, but everyone wants to wait and think it out."
North Korea, one of the world's most isolated countries, already faces UN sanctions over its nuclear weapons programme. It has been accused of helping Iran with its nuclear drive and just shrugs off complaints about its human rights and bellicose attitude toward its neighbours. AFP