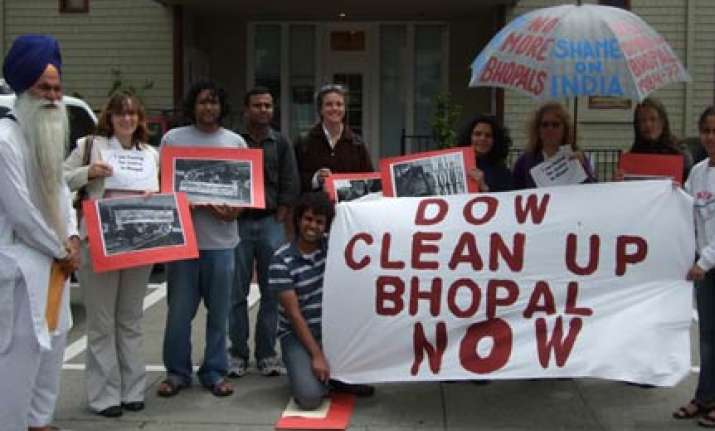 Washington: The US on Wednesday termed as "incorrect" a news report that it is linking efforts of the Indian Government to seek more compensation from the Union Carbide in the Bhopal gas tragedy with the investment ties between the two countries.
 "The assertion that there was linkage between two separate and distinct issues is wrong, is incorrect," Benjamin Chang, Deputy Spokesperson of the National Security Council in the White House told PTI.
 Chang was responding to a question about the report in India that a senior US official has asked the south asian country not to persist with its effort to seek more compensation for Bhopal gas tragedy victims from Union Carbide so as to avoid  any "chilling" in the investment relationship between the two countries.
 Such a message was apparently conveyed by the US Deputy National Security Advisor, Michael Froman in an email to the Planning Commission, Deputy Chairman, Montek Singh Ahluwalia, according to the report.
Chang, however, refused to make any comment on the content of the communication, but asserted that making any link between two separate issues is incorrect.
"We are not going to comment on the specific contents on emails," Chang said, adding that any effort to conclude that there is any linkage between two separate issues is wrong.
"We certainly recognize the importance and sensitivity of this issue in India. We are committed to building a strong, broad and deep relationship between our two countries as you know," he said.
 Meanwhile, senior administration officials were quick to point out that the US has supported India s  position at the International Bank for Reconstruction and  Development of the World Bank.
"We are committed to have a very strong relationship. We can talk about any range of issues and work them out together through dialogue and discussion. I believe any of these issues could be resolved through dialogue," the official said, but refrained from making any specific comment on the Union Carbide issue.
The official denied reports that there was any pause in the relationship between the two countries on any issues including Pakistan, Afghanistan or economic issues.
"The Indo-US relationships are in a very good standing. The ground is very firm. The dialogue (between India and the US) is going on very well," the official said.
The Headley case is the latest example of the close co-operation between the two countries, he said.
"We are very much supportive of the dialogue with Pakistan to resolve a variety of issues between two countries.
 Encouraging India s role in Afghanistan--the common goal that we have for the stability and prosperity for that country," the official said.
"Internally there is lot going on-- trade and commerce. Externally we are working on regional stability. I think there is going to be a lot of opportunity when the President visits India in November to expand on the relationship," the official said. PTI