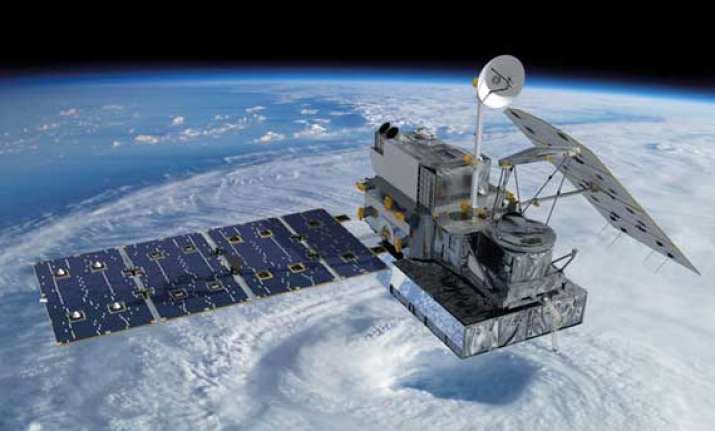 Washington : Scientists are eagerly awaiting the launch of a joint US-Japan satellite mission that should provide the most detailed global measurements yet of rain and snow.
The satellite, a joint effort of NASA and the Japan Aerospace Exploration Agency (JAXA), is set to launch Feb 27 from the Tanegashima Space Centre in southwestern Japan.
The data collected by the US$933-million Global Precipitation Measurement Core Observatory (GPM) could improve severe weather forecasts, estimates of freshwater supplies and projections of future climate change, Nature reported.
Once GPM settles into orbit above earth, it would use radar and passive microwave instruments to map precipitation every three hours from the Arctic Circle to the Antarctic Circle - roughly 65 degrees north to 65 degrees south latitude.
Its dual-band radar would feed scientists information on the size of raindrops and snowflakes, and their concentration in different layers of the atmosphere.
The NASA-built passive microwave imager will monitor the intensity of rain and snow in a given location.
"I like to describe it as a CT scan of the atmosphere," said Gail Skofronick-Jackson, GPM project scientist at NASA's Goddard Space Flight Centre in Greenbelt, Maryland.
GPM's expanded coverage area would allow scientists to track conditions in poorly monitored areas, such as the world's oceans and mountain ranges, as well as much of Africa, Asia and South America.
Researchers also hope to use GPM data to study the evolution of major storms outside of the tropics, and to develop real-time warnings of landslides and floods.
According to NASA officials, the satellite would carry enough fuel to operate for 5-12 years, depending on solar weather conditions.
Similar data is collected now by an existing satellite, the Tropical Rainfall Measuring Mission (TRMM), which NASA and JAXA launched in 1997. But TRMM covers a much smaller swath of the globe.