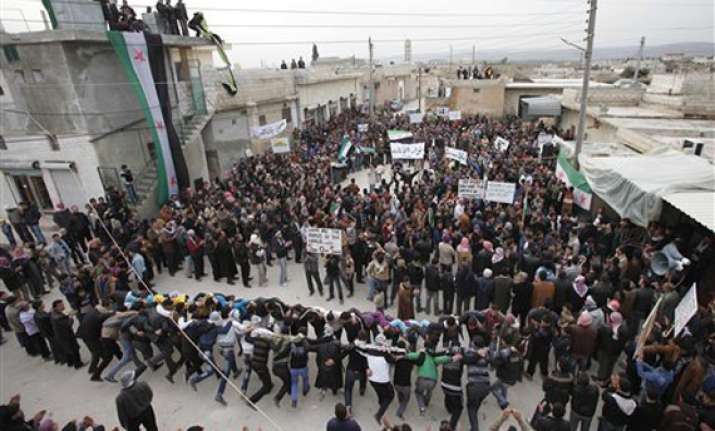 Beirut, Feb 7: At least 66 civilians were killed across Syria on Monday and scores injured as regime troops pounded the city of Homs with mortars and launched an assault on Zabadani, near the capital, activists said. 
State media said three soldiers were also killed by what it said was an "armed terrorist gang" in the northwestern province of Idlib.

The Syrian Observatory for Human Rights said at least 42 civilians were killed in the central city of Homs, but added that the death toll was likely to rise because many of the wounded were in critical condition.

The shelling, which began at dawn, was mainly targeting the neighbourhoods of Khaldiyeh, Baba Amro, Inshaat and Bab Sbaa, the Britain-based group said said.  Syrian state television accused "armed gangs" of being behind the latest violence in Homs.

The Observatory said 10 people were also killed today in shelling by security forces on the town of Rastan, in Homs province. Two more were killed in Hula and Qusair, also in Homs province.

Elsewhere, two civilians, including a child, were killed when their car came under fire from security forces at Sarghaya, near Damascus.

In the country's second city of Aleppo in the north, a 45-year-old male passenger aboard a bus was shot dead, the Observatory said.

The army also launched a fierce assault on the town of Zabadani, northwest of the capital and near the border with Lebanon, the rights watchdog said, adding that three civilians were killed in the neighbouring town of Madaya.