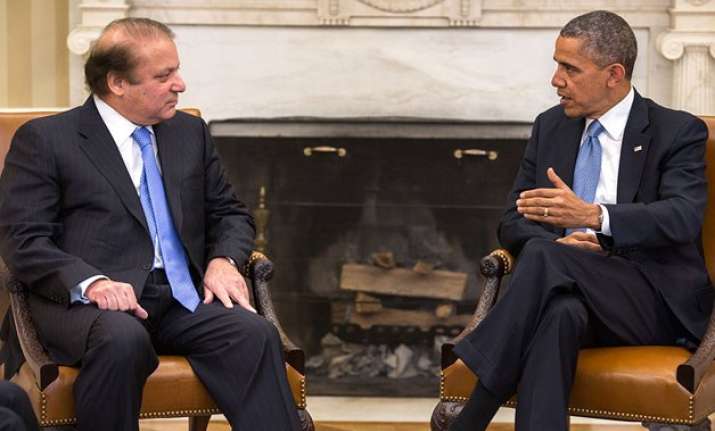 Islamabad: It seems Prime Minister Nawaz Sharif was made to listen more than talk when he met US President Barack Obama, said a Pakistani daily.
An editorial in The News International on Saturday said Nawaz Sharif's "visit to the White House was thought to hold significance for securing commitments from Pakistan on its relationship with Afghanistan as well as Pakistan's commitment to combating various militant groups within its territory".
It can be argued by critics that nothing very tangible emerged from the important meeting. "On the other hand, there was a reiteration of goodwill, the need to work together and other comments and statements which suggested that Islamabad's relationship with its most crucial ally has not weakened - even if this particular visit did not in any substantial way strengthen it," said the daily.
The joint statement focused on Pakistan's agreement to take action against all terrorist outfits, including the Haqqani group and the Lashkar-e-Taiba (LeT). "The promise that the groups would not be allowed to operate from Pakistani soil suggests that the bulk of the meeting was uni-directional with the US president making demands of PM Nawaz."
The daily noted that combined with a "vague statement proposing confidence-building measures along the Line of Control with India and Obama raising the 'continuing threat of nuclear terrorism', it seems Nawaz was made to listen more than talk".
"There was also no nuclear deal signed - something Pakistan has hoped for a long time, arguing that the civilian use of nuclear energy could greatly help us solve our power crisis," it added.
The US, it is clear, wishes to keep Pakistan by its side and for Islamabad this is good news.
The editorial went on to say that the 'no comment' policy that US authorities have taken "on the Pakistani dossier on Indian involvement in Pakistan's internal affairs may be a setback - more so since the Pakistani side's statements had been very India-centric before the visit - but in truth no one really expected the US to respond in public just yet".
"This Nawaz visit did show that Washington is clearly in no mood to distance Pakistan for now, especially at a time when it faces challenges from China," it added.