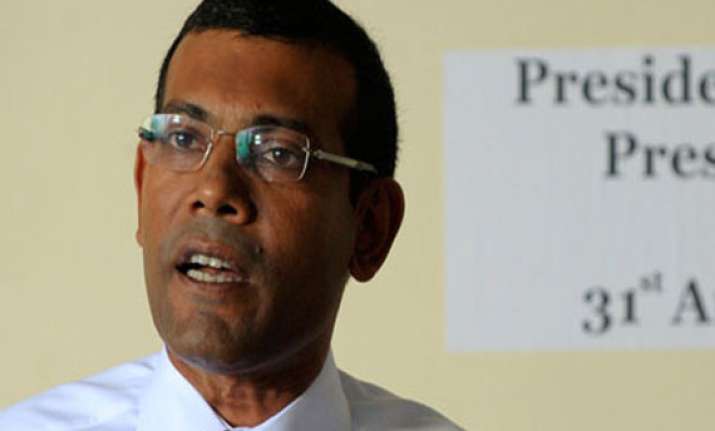 Male, Feb 13:  Former Maldivian president Mohamed Nasheed who took refuge in the Indian embassy in Male Tuesday witnessed a major change of fortune in his political career with the start of 2012.
The following is the timeline, as reported by BBC, which suggests the turn of events that unfolded in the last one year in the Maldives commenced with the arrest of the country's chief justice Abdulla Mohamed under Nasheed's regime.
Jan 16, 2012 - A row erupts over arrest of the chief justice, who ordered the release of a government critic.
Feb 7, 2012 - President Nasheed announces his resignation after a mutiny by the police and weeks of demonstrations over the arrest of the chief justice. Later, he claims being forced out in a coup.
Vice-president Mohamed Waheed Hussain Manik is sworn-in as the president.
July, 2012 - Nasheed is formally charged with illegally ordering the arrest of the chief justice, whose detention sparked protests in February. The move comes as Nasheed's supporters demonstrate and demand early elections.
August, 2012 - Commonwealth-backed investigation team dismisses claims that a coup forced Nasheed to step down as the president in February. The report says Nasheed resigned voluntarily.
Oct 8, 2012 - Nasheed is arrested for ignoring a court summons and travel ban.
Nasheed denies the charge of illegally arresting the chief justice, says it is politically motivated. A conviction could disqualify him from contesting future presidential polls.
According to the Guardian, supporters said police in full riot gear pepper sprayed Nasheed and dragged him from a house after he ignored summons. Police in the Maldives arrested Nasheed after he twice failed to appear before a court to face charges that he illegally ordered the arrest of the judge while in office.
Feb 13, 2013 - Nasheed, who once held a cabinet meeting under water to highlight global warming, takes refuge at the Indian High Commission in Male after a Maldivian court issues an arrest warrant against him over his failure to attend a hearing in the illegal detention of a judge.