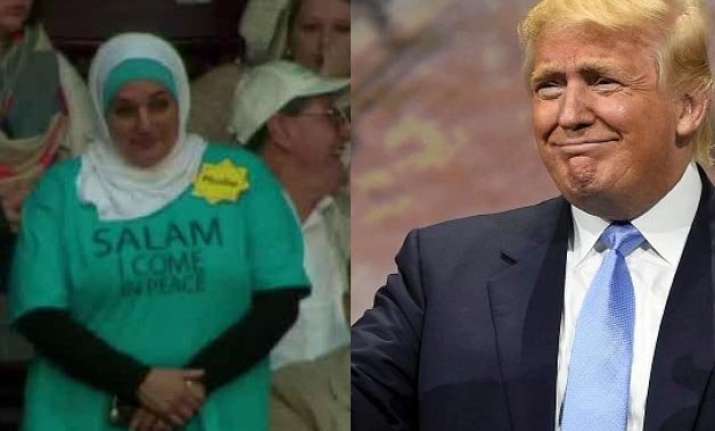 Washington:. A Muslim woman was escorted out of Donald Trump's rally on Friday night in the US state of South Carolina , after she staged a silent protest against the Republican frontrunner's  call for a ban on Muslims entering the US.
As Trump questioned the motives of Syrian refugees at the rally, saying they "probably are ISIS, Rose Hamid, a 56-year-old flight attendant,wearing a white hijab and a blue T-shirt reading, "Salam, I come in peace.", stood up in the stands of the sports arena behind him.
She also sported a yellow star, similar to those once worn by Jews during the Holocaust, with the message "Stop Islamophobia."
Later, she was escorted out as Trump supporters waved placards bearing his name in her face and chant for him.
She admits that there were some good, friendly people in the crowd but as she was being escorted out she was booed, accused of having a bomb, and patronisingly told that Jesus loves her.
Once aware of the disturbance, Trump said, "There is hatred against us that is unbelievable. It's their hatred, it's not our hatred."
"I have this sincere belief that if people get to know each other one on one, that they'll stop being afraid of each other and will be able to get rid of all this hate in the world. So that was my goal that people see that muslims aren't that scary," she told CNN.