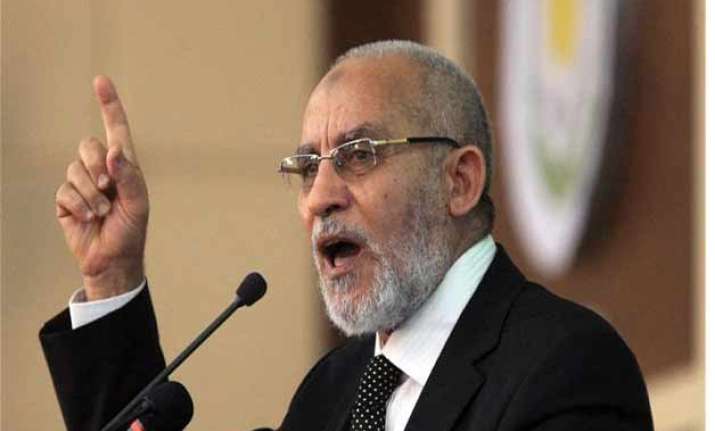 Cairo:  An Egyptian court today confirmed the death sentences of Muslim Brotherhood's top leader Mohamed Badie and 13 others for planning attacks against the state by inciting chaos and violence.
The court also sentenced 36 others, including US-Egyptian citizen Mohamed Soltan, to life in jail for supporting the banned group. The sentences are subject to appeal.
Badie, the supreme guide of the banned group, and 13 other Brotherhood members were convicted of setting up an "operation room" to direct their supporters as part of plans to defy the state and spread violence and chaos, following the dispersal of Rabaa and Nahda sit-ins in August 2013 by police after the ouster of Islamist president Mohammed Morsi.  Badie was sentenced in March.
The court today confirmed the sentences, after they were reviewed by Egypt's Grand Mufti.
According to the Egyptian law, the Mufti must review all death sentences although his decision is not binding.  Badie, Sultan and 50 other leaders were referred to the criminal court in February 2014.
Soltan, who was arrested in August 2013, was sentenced for false information to destabilise the security of Egypt and funding the mass protest of the supporters of Morsi in Rabaa which was dispersed by security forces and left hundreds dead.
Badie was arrested from a Nasr City apartment on August 20, 2013 and was then charged in a number of different cases.  He is currently standing several trials for violent acts committed by supporters of Morsi. Badie was also sentenced to death before in other cases but the sentences were later reduced to life imprisonment.
Since Morsi's ouster in 2013, the Egyptian government has been cracking down on the Muslim Brotherhood and its supporters.
The Muslim Brotherhood was designated as a terrorist organisation in November 2013 by the Egyptian government.  Some 22,000 people have been arrested, including most of the Brotherhood's leaders, since Morsi's ouster in July 2013.
Morsi is in prison over charges of killing peaceful protesters, espionage and escaping from prison during the January 25 Revolution in 2011 that toppled Egyptian strongman Hosni Mubarak.