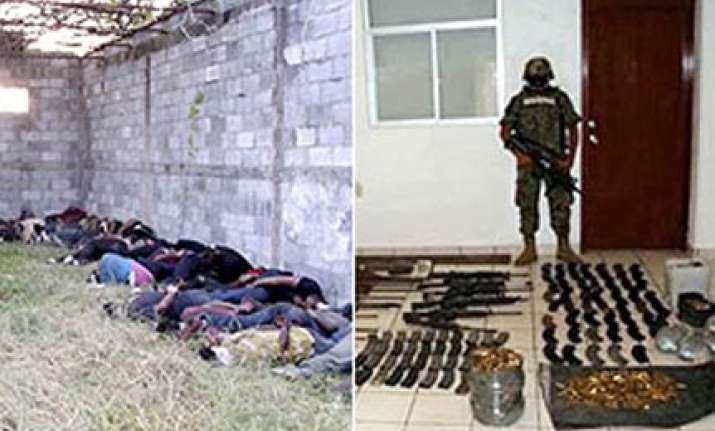 Mexico city:  Mexico's navy on Thursday released footage of the location where the bodies of 72 people were discovered on Tuesday in the northern state of Tamaulipas close to the US border.A wounded Ecuadorean survivor said the massacre had been carried out by a Mexican drugs cartel.
The injured man escaped and stumbled to a highway checkpoint where he alerted marines.The 58 men and 14 women were killed by the Zetas gang, the migrant told investigators on Wednesday.The gang, started by former Mexican army special forces soldiers, is known to extort money from migrants who pass through its territory.
If authorities corroborate the story, it would be the most horrifying example yet of the plight of migrants trying to cross a country where drug cartels are increasingly scouting shelters and highways, hoping to extort cash or even recruit vulnerable immigrants.
The marines fought the cartel gunmen at the ranch in San Fernando on Tuesday, a battle that left one marine and three suspects dead.They then found the 72 bodies in a room, some piled on top of each other, a government security spokesman, Alejandro Poire, said.
Officials said the man, Luis Fredy Lala Pomavilla, identified himself an illegal migrant and said that he and other migrants had been kidnapped by an armed group and taken to the ranch in San Fernando, a town about 100 miles (161 kilometres) south of Brownsville, Texas.
The migrant told authorities that his captors identified themselves as Zetas, and that the migrants were from Brazil, Ecuador, El Salvador and Honduras.Poire said the government was in contact with those countries to corroborate the identities of the migrants.
The Ecuadorean Embassy in Mexico said it was in contact with the surviving migrant, Luis Freddy Lala Pomavilla, and was trying to find out if any of its citizens were among the dead.Marcio Araujo, Brazil's consul general in Mexico, said documents found at the scene indicated at least four of the dead were Brazilian.
Consular officials for El Salvador said they had no immediate information on whether any Salvadorans were among the victims.The marines seized 21 assault rifles, shotguns and rifles, and detained a minor, apparently part of the gang.Authorities said they were trying to determine whether the victims were killed at the same time - and why.
Poire noted migrants are frequently kidnapped by cartel gunmen demanding money, sometimes contacting relatives in the US to demand ransoms.The Zetas so brutally control some parts of Tamaulipas that even many Mexicans do not dare to travel on the highways in the state.
Many residents in the state tell of loved ones or friends who have disappeared travelling from one town to the next.Many of these kidnappings are never reported for fear that police are in league with the criminals.
The region has been besieged by a turf battle between the Zetas and their former ally, the Gulf cartel.
Mexico's drug violence has surged since President Felipe Calderon dispatched soldiers and federal police to root out drug traffickers from their strongholds in northern Mexico and along the Pacific coast.More than 28,000 people have been killed in drug-gang violence since the offensive began.AP