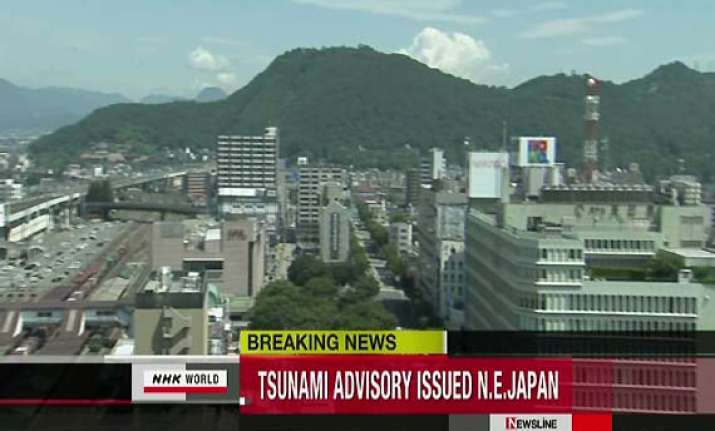 Tokyo, Dec 7: A strong earthquake struck late on Friday off the coast of northeastern Japan, in the same region that was hit by a massive earthquake and tsunami in March 2011.
Authorities issued a warning of a possible tsunami.
The Japan Meteorological Agency said the earthquake, with a preliminary magnitude of 7.3, struck in the Pacific Ocean off the coast of Miyagi prefecture at 5:18 p.m. (0818 GMT).
The epicentre was 10 kilometres (6.2 miles) beneath the seabed.
The warning said the tsunami could be as high as 2 metres (2.19 yards).
NHK television broke off regular programming to warn that a strong quake was due to hit shortly before the earthquake struck.
Afterwards, the announcer repeatedly urged all near the coast to flee to higher ground.
Metre-high tsunami waves struck the coast at several places. There were no immediate reports of any casualties.
Residents of Minamisanriku in Miyagi prefecture, were advised to get to safer places. Other towns were also affected.
Because of darkness it's become difficult to assess the damage done. Cellphones and landline phones are not working in the affected areas.
Buildings in Tokyo swayed violently when the temblor struck.
NHK, quoting the national meteorological agency, said the tsunami was expected to hit the coast of Iwate at 5:40 pm, Fukushima at 5:50 pm, and Aomori and Ibaraki at 6:00 pm
The epicentre was 284 kilometres east of Sendai, or 459 kilometres northeast of Tokyo, according to the US Geological Survey.
There was no threat of a Pacific-wide tsunami, US monitors based in Hawaii said. Officials in both Indonesia and the Philippines south of Japan said there was no threat of a localised tsunami.
Nuclear plant operator Tokyo Electric Power said, there were no reports of any problems at the crippled Fukushima nuclear plant.
"No abnormalities have been recorded on instruments at Fukushima Daiichi nuclear plant's six reactors," a TEPCO spokesman said.
"All workers were ordered to take shelter inside buildings at the Fukushima plant.
"No abnormalities were confirmed with the radiation monitoring posts at the Fukushima plant. No abnormalities were seen with the water processing facilities."
Prime Minister Yoshihiko Noda is personally monitoring the situation.
Japan Railways East temporarily suspended Shinkansen bullet train services to check any damage, Jiji said, while Haneda Airport near central Tokyo was reported to be operating normally.
Narita airport was reported to have resumed operations after a temporary suspension.