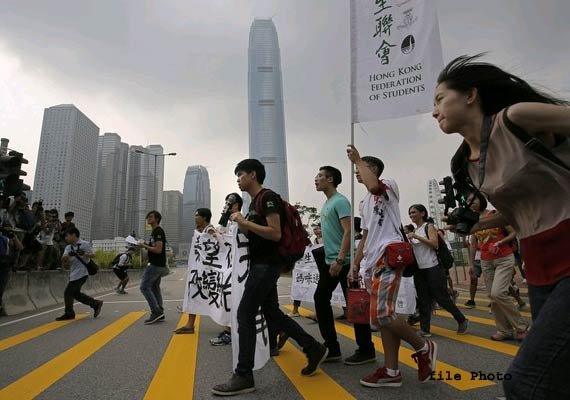 Hong Kong:  Student federations, Occupy Central movement activists and other organisations involved in the pro-democracy protests in Hong Kong have called for a march Tuesday to mark one month of the demonstrations.
"The day that Hong Kong changed" is the slogan of the march which will begin Tuesday afternoon.
It will reach its climax shortly afterwards when the demonstrators will dramatise the moment when police used teargas on the protesters who responded by opening their iconic umbrellas, giving the protests the name, "The Umbrella Movement".
At 5.57 p.m., the time when the incident took place, one minute of silence will be observed for those who were present on that day.
Those who faced police action a month ago have been asked to come wearing the same clothes that they were wearing during the incident.
The organisers have also asked those who cannot or do not wish to attend the march to observe a moment's silence or open their umbrellas wherever they may be at the given time.
At 8 p.m., a demonstration in the Admiralty financial district has been scheduled with thousands of sympathisers expected to attend.
"The world will be watching us," said one of the student leaders Monday while explaining the reasons for the protests from a makeshift pulpit in Admiralty.
The pro-democracy protests began Sep 28 in response to a decision by the Chinese government to disallow independent candidates to contest the 2017 Hong Kong elections.