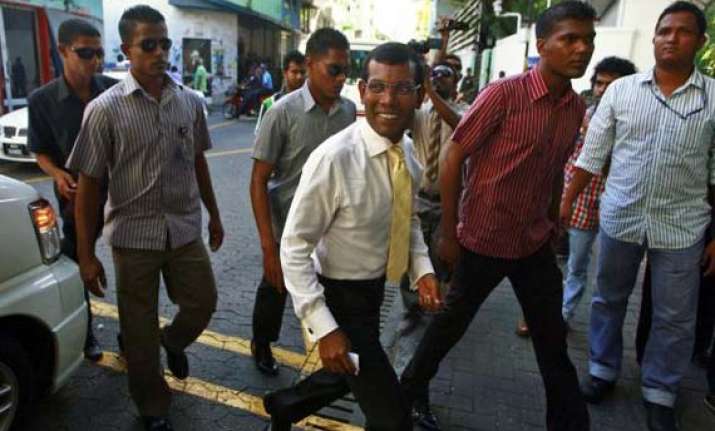 Male, Feb 18: A Maldivian Court on Monday ordered the police to produce Mohamed Nasheed before it, prompting them to approach the Foreign Ministry to talk to the Indian High Commission where former President is holed up for the sixth day.
"We have received court orders asking us to produce former President Nasheed before it by 4 p.m. on Wednesday," police spokesman Hassan Haneef told PTI.
He said the department, through the Attorney General, has approached the Foreign Ministry asking it to get in touch with the Indian High Commission, where Mr. Nasheed has taken refuge since February 13, 2013 to evade a similar arrest warrant issued by the court in a case concerning the detention of the Chief Judge of the Criminal Court during his Presidency in January 2012.
"We have asked the Foreign Ministry to ask the Indian Mission to arrange and facilitate Nasheed's arrest so that he could be produced before the Court," Mr. Haneef said.
Maldives' President Mohamed Waheed's press secretary Masood Imad said the arrest warrant would expire at 4 p.m. on Wednesday.
"The police have been directed by the Court to bring Nasheed before it. The warrant would expire at 4 p.m. Wednesday," he said.
If Mr. Nasheed is found guilty in the case, he could be barred from standing in a presidential election that is scheduled for September 7.
His party — the Maldivian Democratic Party — says the trial is an attempt to exclude him from the contest and has challenged the court's legitimacy.