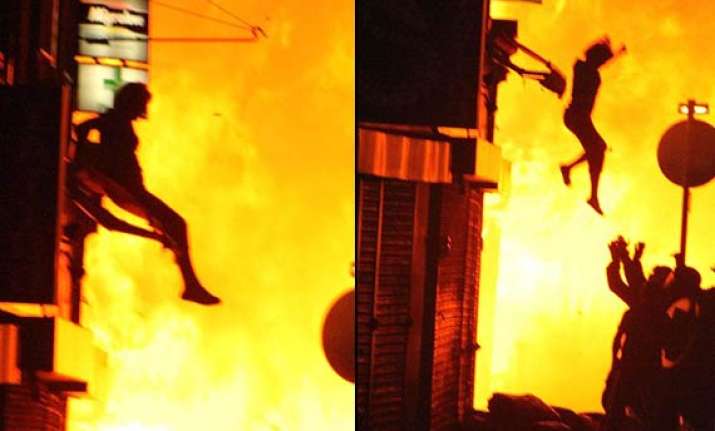 London, Aug 9: Huge swathes of London and three other major cities in Britain awoke on Tuesday morning to the charred debris of a third night of major rioting.
 
As the most serious trouble yet burned through the capital, police confirmed copycat violence broke out in Liverpool, Birmingham and Bristol, with further reports of violence in Nottingham and Leeds, reports Daily Mail.

 
Among the most serious of incidents was the arrest of three people on suspicion of attempting to murder a police officer in North London early this morning. Armoured vehicles were used to push back a mob of 150 rioters in Clapham, South London, while dozens of businesses were gutted by fire or looted until shelves were bare.
 
Despite 6,000 officers on the streets of London alone, many residents reported a lack of police while marauding gangs were a law unto themselves.


An 'unprecedented' number of police will be on the streets of London tonight with 'all able-bodied officers in the Met' out on duty, said Scotland Yard Deputy Assistant Commissioner Stephen Kavanagh.

Last night 44 police officers were injured - four of them seriously - as the capital endured the worst night of violence it has seen for decades.


Deputy Mayor of London Kit Malthouse told LBC radio: 'Officers were extremely brave. What we are trying to do this morning is maximise the number of police officers we have out again tonight.

'We have something like 6,000 on duty last night. We need to get even more out tonight, and that includes officers from outside London, so we are appealing to other forces to help us where they can.'


The violence started on Saturday after father-of-four Mark Duggan, 29, was shot dead by police marksman last Thursday.

The violence began in Hackney shortly after 4pm yesterday when a mob of hooded youths began hurling missiles at officers and setting fire to bins and cars. Masked rioters on BMX bicycles armed with batons attacked a crowded London bus during the evening rush-hour last night, chasing terrified commuters as they tried to escape.

The thugs, some as young as eight, forced the driver to stop the double-decker by pelting it with champagne bottles stolen from a nearby Tesco. About 40 passengers – some carrying screaming toddlers – burst out of the exits and sprinted away.

Within hours similar scenes erupted in Lewisham, spreading to Peckham, Deptford and Croydon in south east London.


Hundreds of fires were started all over the capital, from Camden in the north, Woolwich in the south east, Ealing in west London and then, more worryingly.

Home Secretary Theresa May this morning said there had been 450 arrests in the last two nights but she appeared to rule out bringing in the Army and using water cannon. She told BBC Breakfast: 'The way we police is by consent.'


'British policing has always meant and always depended on the support of local communities and that's what we need now.'

She told Sky News the capital needed 'robust policing' - and rejected suggestions that police budget cutting had any impact on violence.


'Don't let police budgets be used as an excuse for what is going on on our streets is sheer criminality and nothing else.'

Met Police Assistant Commissioner Stephen Kavanagh appeared to contradict the Home Secretary and said using the military had not been ruled out.


'All options were discussed last night and that means, not that we're doing it, the people of London need to know that the Commissioner and his management board team are considering everything and working through those options as we go forward,' he told BBC Breakfast.

Mr Kavanagh said it was 'a shocking and appalling morning for London to wake up to' and he was struck by the 'sheer scale and speed with which the attacks took place across London last night'. It 'was truly unprecedented' he said.


He said there was a 'changing nature' in the make-up of the rioters, with the profile changing 'dramatically' last night from 14 to 17-year-olds to 'older groups in cars doing organised looting'.

He added: 'And there was the far more focused attempt at injuring London Ambulance staff, there to help the community, trying to injure Fire Brigade officers and, of course, police officers.'

Elsewhere, West Midlands Police said it had made about 100 arrests and confirmed that a police station in Handsworth, Birmingham, was on fire. Merseyside Police said there were a number of incidents in South Liverpool, including cars being set on alight.

Avon and Somerset Police reported around 150 rioters were in Bristol city centre, with main roads closed and a number of shops damaged.

Gangs of looters - who appeared to be teenagers and young adults from a range of different backgrounds - raided hundreds of shops and businesses across London, making off with TVs and other electrical goods, cigarettes, clothes and alcohol.

In Medway, Kent, a group of around 15 youths arrived by train and went on the rampage, while violence was also reported in Chatham, Rainham and Gillingham.

Yob also went on the rampage in Nottingham where up to 40 cars were damaged, there were attempts to loot shops and a container of 200 tyres was set on fire.

Cars and wheelie bins were torched during five hours of violence across Liverpool. A Tesco store in Myrtle Street was looted and police came under attack in Admiral Street with some of the rioters aged as young as 10.

Of the attempted murder of a police officer, Scotland Yard said the three people were apprehended following an incident in Brent, north west London, that led to a police officer being injured by a car while trying to stop looters.

A force spokesman said: 'At approximately 2.50am on Tuesday, August 9 a male police officer was injured by a car in Fulton Road, Brent. He has been taken to a north London hospital where he remains in a stable condition.

'It is believed the injury occurred when police stopped some cars as their occupants were suspected of being involved in looting of a nearby electrical store. It is believed the driver of one of the cars drove away injuring the police officer in the process. Three people were later stopped by police and arrested on suspicion of attempted murder.'

As the trouble intensified, at 2.30am the Met changed its tactics in the Lavender Hill, Clapham, introducing armoured vehicles to push back more than 150 people where substantial damage was being caused to shops and local businesses.

Because the tactic proved a success police are now considering using the same methods elsewhere.

Commander Christine Jones, said: 'We are using tactics flexibly to respond to the disorder we are still seeing in different areas of the capital.

'Anyone involved in criminality should be under no illusion that we will pursue you.

'We have been making arrests all evening and have a team working during the night examining CCTV images.

'We will follow up evidence in the coming days in order to bring anyone else responsible for criminal acts to justice.'

A large blaze at a Sony distribution centre near Enfield, north London, also sent plumes of thick smoke across the sky last night.

West Ham and Charlton football clubs announced they have postponed tonight's Carling Cup clashes on police advice and there are suggestions that England's friendly against Holland at Wembley tomorrow night could be called off. However, the FA is planning for the tie as normal and there are no current plans to call the game off.

As trouble spread, Prime Minister David Cameron last night returned home from his holiday in Italy to chair a government emergency Cobra meeting at 9am this morning. Labour leader Ed Miliband is returning early from his holiday in Devon.