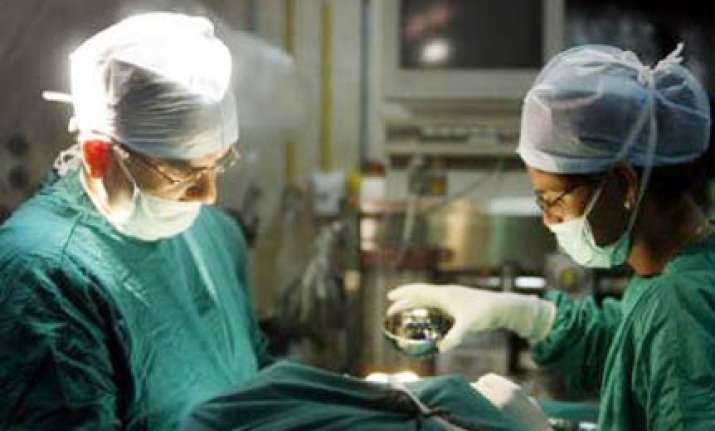 New Delhi: India  on Friday described as "totally irrational" British scientists linking a new superbug resistant to antibiotics to this country and said it was responding to an alert issued by Britain in this regard. 
V M Katoch, Secretary of Health Research, said, the government would soon draft a reply to this after a meeting of the National Centre for Disease Control (NCDC), a nodal agency under the Health Ministry. 
"When you link it to something to our antibiotics policy, say India specific, say it is dangerous to get operated in India then you will get more infections, that is totally irrational," he said. 
Katoch said the Health ministry will examine the issue in detail but it was "unfortunate that this new bug, which is an environmental thing, has been attached to a particular country which is India in this case". "I am surprised," he said, adding that, "this (the bug) is present in nature. It is a random event and cannot be transmitted". 
Katoch said that he was surprised that a research paper linked it with India as they should know it was a biological phenomenon.  The issue also figured in the Rajya Sabha on Thursday  where members suspected the hands of multinational pharmaceutical and hospital companies behind the claims. 
"When India is emerging as a medical tourism destination, this type of news is unfortunate and may be a sinister design of multinational companies" to defame the Indian medical sector, S S Ahluwalia (BJP) said. 
Demanding a response from the government, he said some foreign tourists after returning from India reported some infection and attributed it to Indian hospitals. "It may not be true," he said.
Ahluwalia, who was supported by Jayanti Natarajan (Congress), said there should be a system of maintaining a registry for patients suffering from infectious diseases. Natarajan said reports of superbug, attributable to India, is a "wrong propaganda against the country".
British media reported that people who embark on "health tourism" trips to India and Pakistan to get cheaper medical treatment risk picking up and spreading a new superbug. The report quoted an international team of scientists.
The researchers found a new gene called New Delhi metallo-beta-lactamase, or NDM-1, in patients in Asia and in Britain. NDM-1 makes bacteria highly resistant to almost all antibiotics, including the most powerful class called carbapenems.
With international travel for healthcare on the rise, the scientists said they feared this new superbug could soon spread around the world.
In a study published in The Lancet Infectious Diseases journal on Wednesday, the researchers found that NDM-1 is becoming more common in Bangladesh, India, and Pakistan and is starting to be imported back to Britain in patients returning from these countries.
"India also provides cosmetic surgery for other Europeans and Americans, and it is likely NDM-1 will spread worldwide," the scientists, led by Timothy Walsh from Britain's Cardiff University, wrote in a report of their findings.
Multi drug-resistant bacteria are already a growing problem in hospitals across the world, marked by the rise of "superbug" infections like methicillin-resistant Staphyloccus aureus (MRSA).
Walsh and his international team collected bacteria samples from hospital patients in two places in India, Chennai and Haryana, and from patients referred to Britain's national reference laboratory between 2007 and 2009.
They found 44 NDM-1-positive bacteria in Chennai, 26 in Haryana, 37 in Britain, and 73 in other sites in Bangladesh, India, and Pakistan.
Several of the British NDM-1 positive patients had recently travelled to India or Pakistan for hospital treatment, including cosmetic surgery, they said.
Most worryingly, NDM-1-producing bacteria are resistant to many antibiotics including carbapenems, the scientists said, a class of the drugs generally reserved for emergency use and to treat caused by other multi-resistant bacteria such as MRSA and C-Difficile.
Experts commenting on Walsh's findings said it was important to be alert to the new bug and start screening for it early.
"If this emerging public health threat is ignored, sooner or later the medical community could be confronted with carbapenem-resistant (bacteria) that cause common infections, resulting in treatment failures with substantial increases in health-care costs," Johann Pitout from the University of Calgary in Canada wrote in a commentary in same journal.
Meanwhile, Times of India reported on Thursday that 37 cases have already been reported, mainly among patients who had travelled to India and Pakistan, for cosmetic surgery, cancer treatment and transplants.
NDM-1 was identified in 2009 by Cardiff University's Timothy  Walsh in two types of  bacteria- Klebsiella pneumoniae and Escherichia coli - in a Swedish patient admitted to a hospital in India.
What makes the enzyme more dangerous is that it can jump easily from one bacterium to another. Experts fear it will start attaching itself to more dangerous diseases causing them to become resistant to antibiotics.
David Livermore of the Health Protection Agency in Britain, who co-wrote the research with Walsh, said: "The NDM-1 problem is likely to get progressively worse in the foreseeable future.  The potential for wider international spread and for NDM-1 to become endemic worldwide are clear and frightening." 
The superbug was found attached to E.coli bacteria that cause urinary tract and respiratory infections.
In 2009, the Health Protection Agency issued an alert reporting that NDM-1 was resistant to most antibiotics. However, a study in The Lancet confirmed Britain to be the first western country to register the "widespread presence" of the bacteria. The researchers said this was 'unsurprising' given the "historical links between India and Britain".
They added that the bacteria will probably spread worldwide as India provides cheaper cosmetic surgery for Europe and the US as well.
A team of experts has tracked the enzyme in Britain, India, Pakistan and Bangladesh and believes it to be more widespread than first thought.
It is said to be resistant even to a class of antibiotics known as carbapenems, which are reserved for use in emergencies and used when bacteria are found to be resistant to more commonly prescribed antibiotics. Worryingly, there are only two antibiotics that work against NDM-1 and the likelihood is that they will also be overcome before long.
"In many ways, this is it. This is potentially the end. There are no antibiotics in the pipeline," Walsh said.