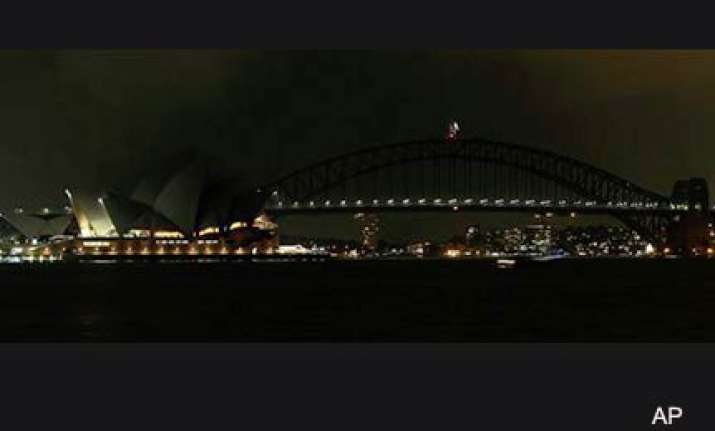 Sydney's iconic Opera House and Harbour Bridge went dark along with millions of homes Saturday at the start of Earth Hour, a global switch-off aimed at revitalising efforts against climate change.
Harbour ferry horns blared to signal the energy-saving event, which is supported by 4,000 cities in a record 125 countries and includes 1,200 famous landmarks from the Forbidden City to the pyramids to the Las Vegas Strip.
"From Brazil to America, to Canada, all the way down to Australia, Japan and India -- it's a really diverse set of countries taking part this year," Earth Hour executive director Andy Ridley said.
Sydney's office buildings plunged into gloom at 8:30 pm (0930 GMT), setting off a rolling wave of darkness which will sweep the globe in a boost for the environmental movement after December's disappointing Copenhagen UN talks.
The WWF-run event had officially begun nearly three hours earlier when New Zealand's Chatham Islands switched off their diesel generators, leaving just 12 street lamps burning. It will eventually close in Samoa after nearly 24 hours.
On the way, most of the world's top landmarks, from the Eiffel Tower to the Empire State Building and the Leaning Tower of Pisa, will turn off the lights to show their support for energy conservation.
Beijing's Forbidden City and Bird's Nest Stadium are among the participants along with dozens of cities in China, the world's biggest carbon polluter, where giant panda Mei Lan is an Earth Hour ambassador.
Hong Kong's renowned neon waterfront will temporarily dim as will the Singapore Flyer observation wheel and office buildings in Jakarta and Seoul, before India's massive urban centres of Delhi and Mumbai join the switch-off.
London's Big Ben and Manchester United's Old Trafford football ground are set to take part amongst Europe's best known spots including Paris's Notre Dame cathedral and the Trevi Fountain in Rome.
In America, some 30 states are on board with Mount Rushmore, San Francisco's Golden Gate Bridge and Chicago's 110-storey Sears Tower all due to go dark.
But in Bangkok, city authorities were ordered to halt their Earth Hour campaign for security reasons, as anti-government protesters held another major rally.
Earth Hour started in 2007 in Sydney and now enjoys widespread support both from the public and big business, including Google, Coca-Cola and McDonald's.
This year, even users of ubiquitous Twitter and Facebook can show their support with special applications that turn their displays dark.